by Larry Gaughan
The dance in financial planner Stan Corey's new book, The Divorce Dance, is a tango.  In dancing the tango, the interplay between the two dancers has rules, but it also has options.  Corey has written a readable novel about the divorce process of his protagonists, Jim and Natalie, and has seamlessly woven into his narrative a great "how to" book on avoiding the traps of the divorce process.  It's the most readable book in print about the "nuts and bolts" of a mediated divorce settlement.
With the exception of some excellent books for parents who are divorcing, such as Don Saposnek's classic "Mediating Child Custody Disputes," there is only a relatively short list of really good books about divorce.  Of course, there are some good novels, such as Diane's Johnson's 1998 book Le Divorce.  However, the overall quality of "how to" books on divorce is not very high.  So many of these are overly anecdotal, difficult or boring to read, misleading, or poorly focused.  Corey's new book is a notable exception.
It is rare for a "how to" book on divorce to be valuable to both divorce professionals and their clients.  Corey's book takes clients step-by-step through the divorce process in a way that integrates divorce law, sound financial planning, and the emotional issues of divorce.  Divorce professionals may not find many specific details they don't already know, but following Jim and Natalie as they do in the step-by-step of their tango through the divorce process opens up new ways to rethink the familiar.  Often, we professionals are too immersed in those details to be fully able to appreciate the interactions of our clients in a longitudinal way.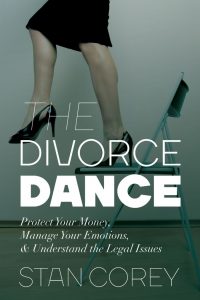 Corey has the background needed to write this book.  He is a skilled financial planner, and his 35 years of experience also includes work as an expert witness, a mediator, and a collaborative professional.  His book is a brilliant interweaving of Jim and Natalie's at times touching divorce story, with useful information about financial planning, the legal structure, and their emotional states at various stages of the process.  Another virtue of this book is its clear, concise style.  A professional can read this 346-page book in somewhat less than a day.  Clients should keep it on their bedside tables.
There is another important benefit of Corey's book.  We talk from time to time about the future of divorce law, mainly in the context of thinking about it as something imponderable. except for one or two specific issues.  Many divorce lawyers and many more of their clients have some reservations about the litigation system, but, so far, the organized Bar has shown little interest in proposals for serious changes.
What Corey has done is to show both the professionals and their clients how the future of the divorce process can be now.  The business-like and collaborative process that his book demonstrates doesn't need any legislative or Bar-generated changes for it to happen.  What is required is simply for either the professionals or the clients, or both, to insist on using it whenever it is reasonably possible.  That's another reason why this book can be so valuable to divorce professionals, and why their clients may really need it for the process choices, as well as to find ways to understand the legal and financial options.
For divorce lawyers, the book is a good reminder that the divorce process is not only about the legal issues.  Corey demonstrates, time and again, the relevance of sound financial planning, often in ways that are perfectly consistent with the legal framework.  He also reminds clients that it's their future that's in question, and that if they didn't have a financial plan before the divorce, it's essential that they develop one now.
For clients, there is an enumeration of the practical steps in choosing among the process options, namely representation by attorneys, mediation, and collaborative practice.  There are also guidelines for choosing professionals, as well as deciding which professionals may be needed in a given case.  Corey takes it for granted, as he should, that litigation is a last resort, and which actually takes place in only a small percentage of the total divorce cases.  As cases become more difficult, he assumes that it's appropriate to consider bringing in one or more other professionals, and combining several process alternatives, such as integrating mediation with active representation.
Corey's book is somewhat more focused on the needs of the wife, Natalie, who has much less financial experience and income than her husband, Jim.  In many divorce cases, one spouse needs more financial information and planning than the other.  Since the purpose of the book is to present ideas and information on the divorce process as well as on financial planning, such a context in Corey's novel is appropriate to best develop these themes.
Finally, in a sense, this is a book about marriage as well as divorce.  Most of us are all too aware of the personal and relationship issues in marriage, including family systems, intimacy, sex, and communication.  We often ignore the ways in which the family is like a business.  It manages, it earns and spends, it acquires and disposes of property, and the labor of each spouse has economic value.
Spouses who can take responsibility for themselves are better able to face the challenges of both their marriage and of any post-marriage future.  Corey shows how important it is for a spouse to be able to expand his or her self-responsibility through the divorce process.  His book can also be a "wake-up call" for spouses whose are aware that their marriage is in trouble, but are willing to take a look at the divorce process, in the hope of not having to take that path.
Stan Corey's The Divorce Dance is available through Amazon.com at $19.95.  This is far too good a bargain to pass up.  It's also available on Kindle.
_____________
Larry Gaughan was admitted to practice law in Montana in 1957, and in Virginia in 1967. He was a tenured full professor at Washington & Lee and George Mason Law Schools. As an attorney, he is rated by Martindale-Hubbell, the national rating service for lawyers, as "AV® Preeminent™." Larry has been a family mediator since 1980 and is a Founding Member of APFM. He is a member of the Professional Mediation Board of Standards.
Summer 2016 Collection of Articles from The Professional Family Mediator