Wednesday, October 25
Pre-Conference: 1/2 day AM  — 7-10am PT | 10am-1pm ET
Conference: 1/2 day PM – 11am -4:15pm PT | 2-7:15pm ET
Thursday, October 26
Conference: Full day – 6:40am-1:15pm PT | 9:40am-4:15pm ET
Friday, October 27
Conference: 1/2 day AM — 6:40am-1pm PT | 9:40am-4pm ET
Schedule table is best viewed on a large screen or, if on a phone or tablet, in landscape mode.
Schedule subject to change.
All Times Listed Below Are in Eastern (U.S.) Time Zone
Date/Time (Eastern)
Session Title
Session Description
Wednesday, October 25
Pre-Conference Workshops
9:00 AM - 10:00 AM
Virtual Meet-up and Networking
Join APFM Conference registrants and committee members for a virtual meet-up on Zoom. Grab a cup of coffee and mingle with other family mediators from around the globe in this fun and informal meeting to connect and network!
10:00 AM - 1:00 PM
Session P1: Family Mediator Ethics in an Increasingly Diverse World
Presented by Victoria Dinger
What are the emerging ethical issues confronting practitioners using ADR (Alternative Dispute Resolution) in an increasingly diverse world? Focusing on ethics within alternative dispute resolutions in divorce and family law, and civil trials, this presentation will explore ethical decisions and effective resolution techniques, in an increasingly diverse world. With these perspectives and skills, professional family mediators can utilize these highly effective ethical, legal, and psychological strategies in the resolution of civil cases, along with methods for dealing with biases and consensus skills that will be explored.
10:00 AM - 1:00 PM
Session P2: Special Education Dispute Resolution: Implications for Family Mediators, Clients and school age Children with Disabilities
Presented by Richard Erhard
Richard Erhard has extensive background in the provision of services to children with disabilities. This Pre-Conference Institute presentation will discuss key elements of the Individuals with Disabilities Education Act (IDEA), the institutionalized dispute resolution process currently utilized under the IDEA, an alternative Early Dispute Resolution (EDR) mediation model, and the implications of both in family mediation. Topics to be addressed include:

1. The IDEA and its dispute resolution process: Checking for Understanding
2. Early Dispute Resolution (EDR) Mediation of special education disputes: Breaking the Waiting to Fail Model!
3. Co-facilitation of IEP Meetings, Resolution Meetings, Mediation, and the application of the co-facilitation model in family mediation: Coaching and Training
1. Early Dispute Resolution (EDR) Mediation of special education and Section 504 disputes.
2. Parent and District Staff Training for Individualized Education Programs (IEP) meetings
3. Co-facilitation of special IEP Meetings, Resolution Meeting, and Mediation, under the Individuals with Disabilities Education Act (IDEA)
10:00 AM - 1:00 PM
Session P3: How To Handle Written Communication & Conflict in Mediation: Practical Skills for Mediators and Their Clients
Presented by Kristyn Carmichael
Much of our focus over the last few years has been the transition of mediation into the virtual world, from Zoom mediation to virtual disclosures. But, an element of our businesses that has always been present and continues to expand, is written communication, via emails, texts, chat, or other. While we spend a great amount of thought and effort into educating ourselves as to how we can help our clients when we are mediating, we often take for granted our abilities to communicate effectively in writing. This interactive training will help you to sharpen your skills as a mediator outside of the mediation room, from handling high-conflict emails and parsing out their relevant meaning to mediating via email. This training will primarily focus on developing these skills for you as a mediator, but we will also explore how these skills can be taught directly to your clients, for more effective communication.

1. Understand the difference between conflict in written communication and conflict in person.
2. Develop strategies for addressing an influx of communication from clients, particularly from those who are high-conflict.
3. Learn how to resolve conflict via email.
4. Practice dissecting written communication to better understand their parts and purposes, in moving communication forward.
5. Include your own values into your written communication process.
6. Learn how to set boundaries within your communication style and your communication systems for clients.
7. Learn techniques for assisting clients in reaching agreements solely through written communication.
8. Develop skills as a mediator, and for clients alike, to lower the conflict in the mediation process.
Wednesday, October 25
Conference
2:00 PM - 3:00 PM
Opening Plenary: Overview of Conference by Alice Shikina/Committee
(Opening Plenary sponsor: High Conflict Institute)
3:00 PM - 3:30 PM
Break
3:30 PM - 5:00 PM
Session A1: Solo: Enhancing Mental Resilience for Effective Mediation in an Increasingly Diverse World
Presented by Rekha Lakra
Join us for a stimulating presentation by an experienced lawyer, conflict coach, and mediator, Rekha Lakra. Delve into the essential role of mental fitness in family mediation, a synergy of positive psychology, performance science, neuroscience, and cognitive behavioral psychology.

Explore how the often invisible, yet impactful, mental fitness dynamics can bolster or hinder mediation outcomes. Rekha will translate strategies proven successful in Fortune 500 companies and among leading CEOs to meet the distinctive challenges of alternative dispute resolution.

This session will deliver critical insights. In it you will:
• Gain an in-depth understanding of mental fitness and its role in disputes.
• Identify and strengthen the three core "muscles" of mental fitness, and learn their applications for enhancing interpersonal dynamics.
• Discover and dismantle a significant force that exacerbates conflicts and undermines relationships.
• Master an easy-to-implement technique to shift perspectives, which will foster healthier dialogues and better outcomes.

Plus, Rekha includes a special mindfulness session to provide tools for increasing focus and reducing stress.

Armed with a heightened awareness of mental fitness dynamics, you can optimize your results in family mediation. Equip yourself with practical strategies to positively steer mediation dynamics and boost results.
3:30 PM - 5:00 PM
Session A2: Artificial Intelligence and the Future of Mediation
Moderated by Colin Rule
Panelists: Ron Dolin, David Orr, Zev Eigen
AI is changing mediation. The pandemic moved mediation online -- but AI may end up being the bigger change. Now, many mediators and parties routinely leverage AI tools like ChatGPT, Bard, and Claude to handle administrative tasks, summarize complex documents, and get strategic advice. AI won't eliminate mediators, but, over time, the mediators using AI will probably get more cases than mediators not using AI. In this session, three experts on AI will share the latest developments in the application of AI to mediation and will peek a little over the horizon toward what may be coming next.
5:00 PM - 5:15 PM
Break
5:15 PM - 5:45 PM
Session AP: APFM Award Presentation
5:45 PM - 7: 15 PM
Session B1: Trauma-Informed Tools for Divorce Mediation
Presented by Clare Fowler & Dan Berstein
Trauma is frequently present in divorce cases, affecting both the parties and the practitioners. In a world in which we cannot know who has experienced trauma, and that people react to it in many different ways, the only thing for certain is that no mediator wants their process to add to that pain. This presentation will share tools to help you practice in trauma-informed ways that are supportive of yourself and of your clients. We will share real-life examples and discuss ways to ensure that your process is safe, accessible, inclusive, and bias-resistant. We will include tools for preparing, communicating, and handling challenging behaviors at every stage of the process. We will also consider the impact on children and ways to be trauma-informed and supportive of their needs, as well.
5:45 PM - 7:15 PM
Session B2: Cross-Cultural ADR
Moderated by Rebecca Pepin
Panelists: Poranee Natadecha-Sponsel, Robyn Weisman, Paula Gibson
This workshop panel will describe challenges that mediators face in cross-cultural ADR and will help the participants predict ADR challenges and apply various skills to respond to those challenges. The presenters will describe the challenges, explain how different participants may understand or respond to the information, and show how the provider can analyze the needs of the participants to design methods, or revise their prior methods, and apply those methods to future mediations/negotiations or arbitrations. The speakers will explain how failing to design skills specific for cross-cultural ADR can leave participants feeling left out and situations unresolved. Speakers will cover issues such as working with a translator, learning pertinent cultural issues, and using similarities to build consensus.
Thursday, October 26
Conference
9:40 AM - 10:30 AM
Presenting Sponsor Presentation: ADR Notable
10:30 AM - 11:00 AM
Break
11:00 AM - 12:30 PM
Session C1: Mediation Across the Globe
Moderated by Tzofnat Peleg-Baker
Panelists: James Mangerere, Tracey-Leigh Wessels, Victor A.A.A Ojaide, Sharon Sutherland, Ber Barry-Martin
The roots of mediation trace back to early civilizations. An historical overview of humanity reveals mediation's deep integration into the human experience as a constructive process for engaging people in meaningful dialogue and addressing tensions and conflicts. Over time, mediation has adapted to fit the particular needs of various cultural contexts. Mediation's significance lies not only in its recognition by many countries as a valuable process to address conflict but also in its incorporation into the legal frameworks of numerous nations as a preferred method for resolving conflicts. This international panel discussion will feature mediators from Ireland, Canada, Kenya, Nigeria, and South Africa.. We hope to shed light on the developments, challenges, and significant breakthroughs in family mediation within these respective countries.
11:00 AM - 12:30 PM
Session C2: Drop the Rope: 3 Steps to De-Escalate Clients Having Intense Anger and Other Strong Emotions
Presented by India Kern
As a skilled legal professional, you are no stranger to dealing with emotionally- charged clients who can impede progress. Managing these conversations in an effective manner is difficult. However, what if there was a simple way to move past even the most intense conflicts and reach a satisfactory resolution, quickly?

The fear of the unknown hinders clients from making decisions, responding promptly, or meeting deadlines, often manifesting as anger and emotional volatility.

In this workshop, Certified Divorce Coach India Kern will equip you with three strategies to manage difficult conversations and temper-heated debates, resulting in a more successful outcome.
12:30 PM - 1:00 PM
Break
1:00 PM - 2:15 PM
Keynote Presentation: Embracing the Tapestry: Mediating in a Vibrantly Diverse World
Presented by Hon. Anita Santos (Ret.)
In a world characterized by rapidly evolving social landscapes and interconnected global networks, the art of mediation has taken on a new dimension of significance. In this enlightening presentation, we will delve into the essential skills and understanding required to navigate the complexities of mediating across diverse cultures, backgrounds, and perspectives. As mediators, we are entrusted with the vital tasks of resolving conflicts, promoting understanding, and fostering harmony, and the success of our endeavors is increasingly linked to our ability to adapt and connect with the diverse fabric of humanity. The goals of this presentation are to empower participants with the knowledge and techniques to bridge gaps, break down barriers, and transform conflict into an opportunity for growth and unity.

Key topics to be explored:
1. Cultural Competence in Mediation: Understand the profound impact of culture on conflict resolution and develop cross-cultural communication skills to foster empathy and trust.
2. Unconscious Bias and Stereotypes: Recognize and mitigate the influence of unconscious bias and stereotypes that may impede mediation's impartiality.
3. Inclusive Mediation Practices: Discover strategies that create an inclusive and safe environment for all parties, ensuring that everyone's voice is heard and valued.
4. Intersectionality in Mediation: Explore the intersection of various identities (e.g., race, gender, ethnicity, religion) and their implications for the mediation process.
5. Emotion and Empathy: Learn how to navigate emotional dynamics effectively and cultivate empathy as a powerful tool for conflict resolution.
6. Leveraging Technology: Embrace digital tools and technology to facilitate virtual mediations that transcend geographical boundaries and embrace diverse participation.
7. Case Studies and Best Practices: Examine real-world mediation cases involving diverse stakeholders, and gain insights into successful approaches. Join us for this thought-provoking session as we strengthen our resolve to build bridges across differences, celebrate diversity, and forge a path toward a more harmonious and inclusive world.
(Keynote Sponsor: ADR Notable)
2:15 PM - 2:45 PM
Break
2:45 PM - 4:15 PM
Session D1: Why Negotiation Coaching in Mediation is Critical
Presented by Alice Shikina
An effective mediator ensures that all parties are heard and understood. However, it is also extremely helpful to be able to coach mediation clients on negotiation strategies in order to get to a solid resolution. By not doing so, your clients may not be achieving their fullest potential. Strong negotiation skills help your clients get to a win-win, reduce power imbalances, and generate positive outcomes for all parties. The presenter will present and explore case-studies and the negotiation strategies she coaches her clients to use, in order to get them to a win-win resolution.
2:45 PM - 4:15 PM
Session D2: It's About Time: Properly Pacing Divorce Mediation Cases
Moderated by Don Saposnek
Panelists: Alexandra Crampton, Ph.D, Larry Fong, Ph.D., Chip Rose
One of the biggest challenges for mediators is how to effectively manage the timing and pacing of issues and sessions within the mediation process. This panel, consisting of highly experienced mediators from various perspectives, will explore the myriad of contextual and pragmatic factors that go into a mediator's process decisions of how to optimally pace and manage timing of interventions within a given case. The goal of the workshop is to facilitate conclusions about best practices.
Friday, October 27
Conference
9:40 AM - 10:30 AM
Presenting Sponsor Presentation: OurFamilyWizard
10:30 AM - 11:00 AM
Break
11:00 AM - 12:30 PM
Friday Morning Plenary: Panel: Financial Issues in Mediation
Moderated by Lili Vasileff
Panelists: Donna Cheswick, Rosemary Frank, Jody Bruns, Michele Laws

It is challenging for both mediators and their clients to analyze and understand diverse approaches to financial decision-making. In the mediation process, a trained financial expert can enhance the disclosure process and the dimensions of financial issues to be more inclusive, accurate, and supportive in reaching a successful settlement. Diversity enhances creativity and encourages the search for novel information and perspectives, leading to better decision-making and problem-solving. This presentation will offer a step-by-step roadmap of how a financial expert collaborates closely with a mediator, moving from the basics to highly nuanced topic areas. The interplay of expertise between mediator and financial expert is a dance that needs choreography and subtlety to allow each partner to lead while following the other. This is how we do it!
12:30 PM - 1:00 PM
Break
1:00 PM - 2:30 PM
Session E1: Complex Parenting Issues
Moderated by Nicole Davis
Panelists: Marvin Whistler, Michael Sallusito, Veronica York, Melissa Polk
The journey to create a parenting plan for divorcing or separating parents can often provoke a heated custody dispute that seems as painful as getting your wisdom teeth pulled! This lively panel will discuss best practices for assisting parents with some of the most complex issues that may arise. What if one parent's parenting choices are perceived as "bad" by the other parent? How will scheduled time with the children be determined (especially on holidays!)? How do parents determine who gets to attend the children's extracurricular activities? Who makes the important educational choices when the parents don't agree? These and many other questions will be addressed to equip mediators in helping parents resolve a myriad of polarizing issues, while keeping the best interests of the children in full focus. Come learn, grow, and share with us!
1:00 PM - 2:30 PM
Session E2: Diversifying Your Mediation Practice
Moderated by Taun Hall
Panelists: Alana Grice-Conner, Julie Gill, Mae Villanueva, Jess Kent
2:30 PM - 3:00 PM
Break
3:00 PM - 4:00 PM
Closing Plenary: Kristyn Carmichael
4:30 PM - 5:30 PM
Virtual Meet-up and Networking
Join APFM Conference registrants and committee members for a virtual meet-up on Zoom. Grab your favorite beverage and mingle with other family mediators from around the globe in this fun and informal meeting to connect, network and discuss your Conference takeaways!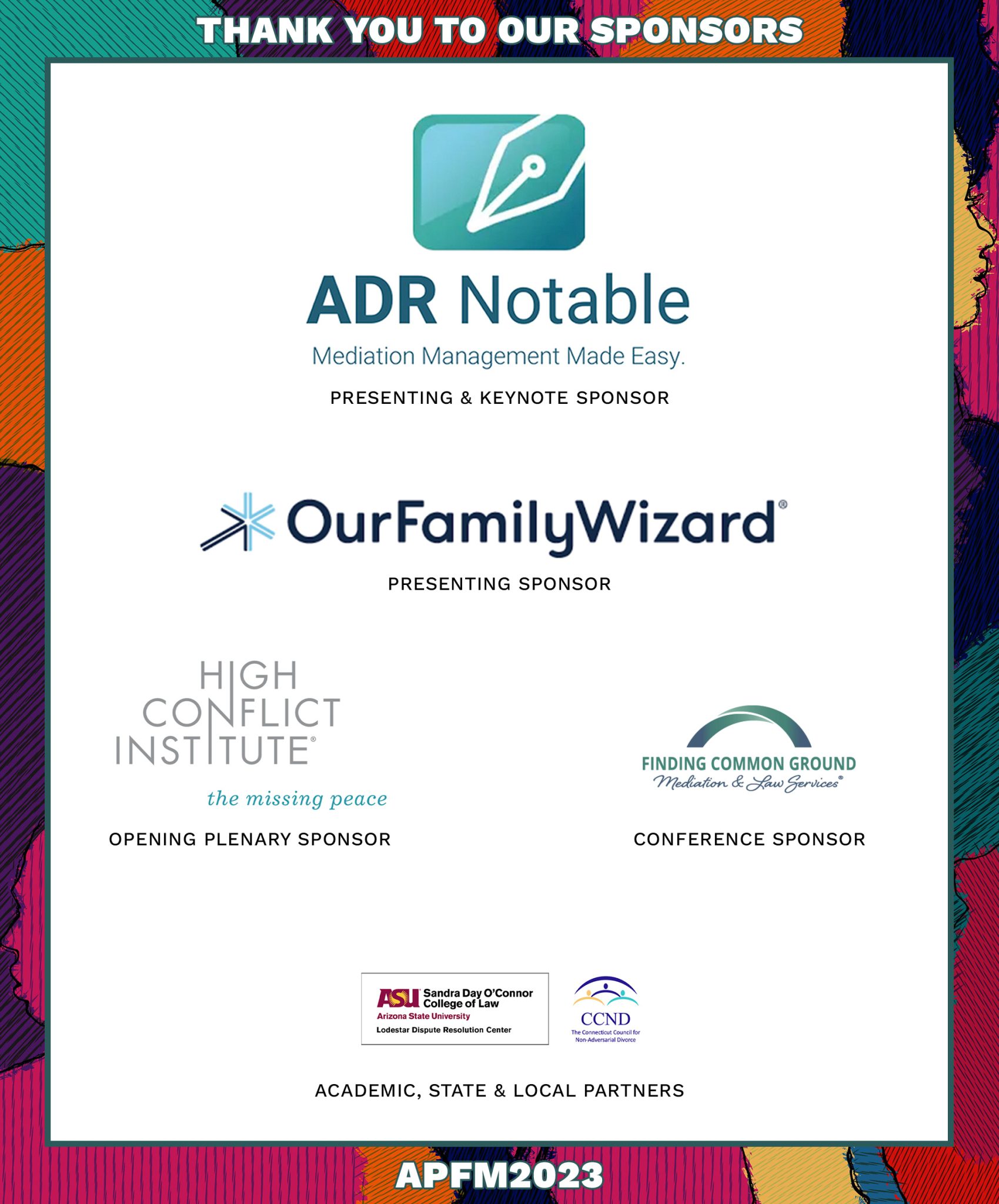 Presenting & Keynote Sponsor
Academic, State & Local Partners
ASU Lodestar Dispute Resolution Center
The Connectict Council for Non-Adversarial Divorce