Impasse Strategies for Divorce Mediators
presented by Steve Erickson, Esq.
and Marilyn McKnight, MA
Wednesday, May 16, 2018
12:00 PM – 1:30 PM Eastern (9:00 AM – 10:30 AM Pacific)
About the Webinar
All divorcing couples are at impasse when they begin mediation. They remain at impasse up to the moment resolution occurs. While many are able to make good agreements in mediation once they have the information and options to resolve their differences, some continue to be at impasse on specific issues, often around the emotional divorce or due to other reasons. For those couples on the brink of throwing in the towel and starting adversarial litigation, the mediator needs to employ special techniques and be able to suggest options to break the impasse and bring them back to a self-determined, acceptable settlement. This webinar will address these most difficult situations. Steve Erickson and Marilyn McKnight have mediated more than 5,000 divorces since 1977, being the third practice to begin in the USA, and the first in the Midwest. They will share impasse strategies they have learned from mediating those most difficult divorces.
About Steve Erickson, Esq. and Marilyn McKnight, MA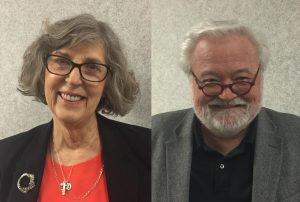 Steve Erickson, Esq. and Marilyn McKnight, MA, have been mediating divorces since 1977 in Minneapolis, MN. Together they have mediated well over 5,000 disputes in their private practice and trained thousands of new mediators in the US, Canada, England, the Netherlands and Singapore. They mediate all kinds of disputes, including elder care, workplace, large groups, civil and family disputes. Both have championed the field of mediation for decades, whether it is through founding national organizations of mediators, serving on the boards of AFM, ACR, APFM and PMBS, developing legislation or expanding the use of mediation into new areas, such as farm foreclosures, they are definitely pioneers in the profession. They are both well known as trainers and speakers, have published numerous articles and co-authored five highly successful books on family mediation. Both have taught as adjunct professors at William Mitchell College of Law in St. Paul, MN and at Augsburg University in Minneapolis, MN. They continue to practice mediation and train new mediators at their offices in Bloomington, MN.
More info: http://ericksonmediation.com/about-us/mediators-staff/
Time and Place
Wednesday, May 16, 2018
12:00 PM  – 1:30 PM Eastern (9:00 AM – 10:30 AM Pacific)
Webinar Cost
The webinar is free for APFM members and $50 for nonmembers. Join APFM or renew your membership here: https://www.apfmnet.org/membership/.
Webinar limited to 100 attendees. Registration closes May 15 at 12 noon Eastern.
More Information about the Webinar
Only APFM members and paid attendees will receive an email with instructions on how to log into the webinar, to be held using the services of zoom.us. If you are uncertain about the status of your APFM membership, log into the APFM website to check it. Help logging in is available here: https://apfmnet.org/website-help/.
You may wish to download the Zoom client software for your computer, tablet or smartphone prior to the webinar: https://zoom.us/download. The software should work on most computers. APFM cannot provide technical support for software issues.
For more information on APFM's webinar series, or if you have a suggestion for a future webinar, please contact Bob Horwitz, Training Committee Chair, at robert.horwitz@gmail.com.
Confirmed APFM members and paid registrants will be sent information on how to login to the webinar. Additional confirmed participants will be sent login information after registration and prior to the webinar. For webinar access questions, please contact webmaster@apfmnet.org. Please note that it may not be possible to provide immediate assistance on the day of the webinar.