The Children's Support Account:
A Cooperative Alternative to Disputes Over Child Support
presented by Steve Erickson, Esq.
and Marilyn McKnight, MA
Wednesday, June 13, 2018
12:00 PM – 1:30 PM Eastern (9:00 AM – 10:30 AM Pacific)
About the Webinar
The Children's Support Account takes a step beyond parenting plans and calls for parents to plan for how to jointly manage all of the children's expenses using a joint account. The idea is akin to any small business creating a yearly budget for the business and then trying to stick within the budget projections. It reduces acrimony around child support because it eliminates the need to find custody in order to compute the guidelines of child support. (In fact, it eliminates the need for the guidelines.) Its use actually creates incentives for parents to cooperate. The Children's Support Account calls for the mediator to assist parents in creating a budget of shared children's costs and then each parent contributes proportionally to a joint account that both will use to pay for designated shared items such as clothing, lunches, sports fees, enrichment, camp, hair care and any other designated joint account they wish to share. It is self-adjusting, it is not hooked to custody, and both parents may use it to pay for items when the children are with each parent. It has been successfully used in more than 500 cases at Erickson Mediation without causing problems.
About Steve Erickson, Esq. and Marilyn McKnight, MA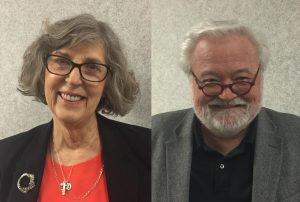 Steve Erickson, Esq. and Marilyn McKnight, MA, have been mediating divorces since 1977 in Minneapolis, MN. Together they have mediated well over 5,000 disputes in their private practice and trained thousands of new mediators in the US, Canada, England, the Netherlands and Singapore. They mediate all kinds of disputes, including elder care, workplace, large groups, civil and family disputes. Both have championed the field of mediation for decades, whether it is through founding national organizations of mediators, serving on the boards of AFM, ACR, APFM and PMBS, developing legislation or expanding the use of mediation into new areas, such as farm foreclosures, they are definitely pioneers in the profession. They are both well known as trainers and speakers, have published numerous articles and co-authored five highly successful books on family mediation. Both have taught as adjunct professors at William Mitchell College of Law in St. Paul, MN and at Augsburg University in Minneapolis, MN. They continue to practice mediation and train new mediators at their offices in Bloomington, MN.
More info: http://ericksonmediation.com/about-us/mediators-staff/
Time and Place
Wednesday, June 13, 2018
12:00 PM  – 1:30 PM Eastern (9:00 AM – 10:30 AM Pacific)
Webinar Cost
The webinar is free for APFM members and $50 for nonmembers. Join APFM or renew your membership here: https://www.apfmnet.org/membership/.
Webinar limited to 100 attendees. Registration closes June 12 at 12 noon Eastern.
More Information about the Webinar
Only APFM members and paid attendees will receive an email with instructions on how to log into the webinar, to be held using the services of zoom.us. If you are uncertain about the status of your APFM membership, log into the APFM website to check it. Help logging in is available here: https://apfmnet.org/website-help/.
You may wish to download the Zoom client software for your computer, tablet or smartphone prior to the webinar: https://zoom.us/download. The software should work on most computers. APFM cannot provide technical support for software issues.
For more information on APFM's webinar series, or if you have a suggestion for a future webinar, please contact Bob Horwitz, Training Committee Chair, at robert.horwitz@gmail.com.
Confirmed APFM members and paid registrants will be sent information on how to login to the webinar. Additional confirmed participants will be sent login information after registration and prior to the webinar. For webinar access questions, please contact webmaster@apfmnet.org. Please note that it may not be possible to provide immediate assistance on the day of the webinar.