Bringing Unconscious or Inner Thinking into the Mediation Process to Create Understanding Between Parties
presented by Gerry O'Sullivan
Wednesday, December 6, 2023
12:00 Noon – 1:30 PM Eastern (9:00-10:30 AM Pacific)
About the Webinar
Gerry O'Sullivan will deliver a brief overview of "The S Questions Model", developed in her book: The Mediator's Toolkit: Formulating and Asking Questions for Successful Outcomes, New Society Publishing, Canada.
She will then focus on one of the methods of questions that can lead to a paradigm shift in the thinking of parties, in particular, the "Journey of Inference Questions" which explores a person's journey from their observations and interpretations through their resulting and linked actions/reactions.
This template of strategic mediation questions serves to make a party's unconscious thinking process conscious and links their actions/non-actions to the interpretations and assumptions they made during a precipitating event. These questions introduce new insight to the parties and create understanding between them. They shift a party's perspective from their old narrative towards a new and healthier narrative.
Methodology:
Theoretical motion-graphic presentation with examples and discussion, followed by a filmed roleplay that demonstrates the application of the theory to practice, and followed by a plenary discussion with questions and answers.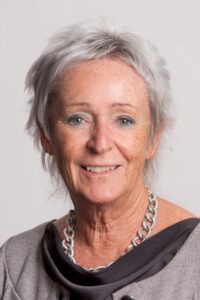 Gerry O'Sullivan has over 35 years of experience in training and conflict resolution work. She has authored 'The Mediator's Toolkit: Formulating and Asking Questions for Successful Outcomes' published by New Society Publishing, Canada, 2018 and has developed In-Person and Online mediation training materials to accompany this book.
Prior to concentrating on advanced Mediation Training for asking powerful questions, Gerry delivered Mediators' Institute of Ireland (MII) accredited mediation training for many years and reached advanced level membership with that Institute (themii.ie). I hold a Diploma in Adult and Continuing Education and have provided training and mediation services for industry, public and semi-state bodies, inter-agency groups, organisational and workplace settings and in the local development and community sector. Internationally, I have delivered In-Person training in Palestine, Cuba, Germany and the U.K., as well as online training to other international areas.
Further information:
https://www.osullivansolutions.ie/who-i-am/
Time and Place
Wednesday, December 6, 2023
12:00 Noon – 1:30 PM Eastern (9:00-10:30 AM Pacific)
Cost
Free for APFM Members, $50 for Non-Members.
More Information about the Webinar
Only APFM members and paid attendees will receive an email with instructions on how to log into the webinar, to be held using the services of zoom.us. If you are uncertain about the status of your APFM membership, log into the APFM website to check it. Help logging in is available here: https://apfmnet.org/website-help/.
You may wish to download the Zoom client software for your computer, tablet or smartphone prior to the webinar: https://zoom.us/download. The software should work on most computers. APFM cannot provide technical support for software issues.
For more information on APFM's webinar series, or if you have a suggestion for a future webinar, please contact [email protected].
Confirmed APFM members and paid registrants will be sent information on how to login to the webinar. Additional confirmed participants will be sent login information after registration and prior to the webinar. For webinar access questions, please contact [email protected]. Please note that it may not be possible to provide immediate assistance on the day of the webinar.