The APFM Family Mediation Lifetime Achievement Award
The APFM Family Mediation Lifetime Achievement Award is presented periodically to a prominent professional family mediator and leader in the family mediation field whose extensive career demonstrates excellence in mediation and passionate dedication to family dispute resolution. The recipient has shown exceptional commitment to improve family mediation practices and enhance public awareness of the field of family mediation. With personal and professional investment in promoting the values of APFM, the recipient has contributed substantive ideas and creative methods that have advanced the field. The recipient also demonstrates outstanding personal qualities that mirror the highest levels of professional standards, including integrity, trustworthiness, and compassion.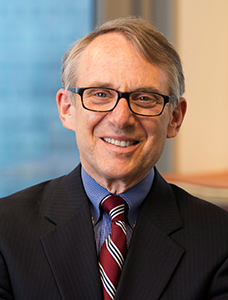 2023 Recipient: David Hoffman
David A. Hoffman is the founding member of Boston Law Collaborative, LLC, where he serves as a mediator, arbitrator, and Collaborative Law attorney.  He also teaches three courses at Harvard Law School, where he is the John H. Watson, Jr. Lecturer on Law: Mediation; Diversity and Dispute Resolution; and Legal Profession: Collaborative Law.
David was named Boston's "Lawyer of the Year" for 2022 in the field of Arbitration by the book Best Lawyers in America and U.S. News & World Report, and also Boston's "Lawyer of the Year" in previous years, including 2021 (Collaborative Family Law) and 2020 (Mediation).  In 2021, he was named in Boston Magazine's inaugural list of "Top Lawyers."  David has also been selected for the Massachusetts "Super Lawyer" list published in Boston Magazine every year since 2004, when the listing began. In 2014, the American College of Civil Trial Mediators gave David its Lifetime Achievement Award, and in 2015, the American Bar Association Section of Dispute Resolution gave David its highest honor, the D'Alermberte-Raven award.
David's practice is focused on resolving conflict in business, family, and employment cases. He has served as mediator and/or arbitrator in more than two thousand commercial, family, employment, construction, personal injury, insurance, and other business cases.
​
~ Prior Years' Awardees ~
2022 Recipient: Nina Meierding, MS, JD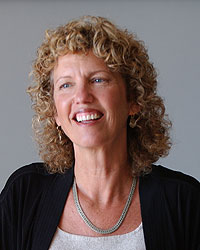 Nina Meierding, MS, JD, has been involved in the conflict resolution field for almost 35 years, mediating over 4,000 disputes and training thousands of people in almost all 50 states, as well as internationally – including Canada, Sweden, Ireland, England, Scotland, New Zealand, the Netherlands, and India. She has trained court systems, corporations, non-profits, school districts, local, state, and national government agencies, law firms, and multiple other entities in negotiation, mediation, and gender and cultural issues. She has taught at Pepperdine University School of Law for over 28 years, as well as both the National and California Judicial Colleges and other universities. She served on numerous national conflict resolution boards and is a former president of the Academy of Family Mediators. Her many awards include the Distinguished Mediator Award by the Association of Conflict Resolution, the Lifetime Achievement Award by the American College of Civil Trial Mediators, and most recently (2021) the Distinguished Neutral Award from the National Academy of Distinguished Neutrals. She was profiled in the American Bar Association Dispute Resolution Magazine and is an honorary fellow of the International Academy of Mediators.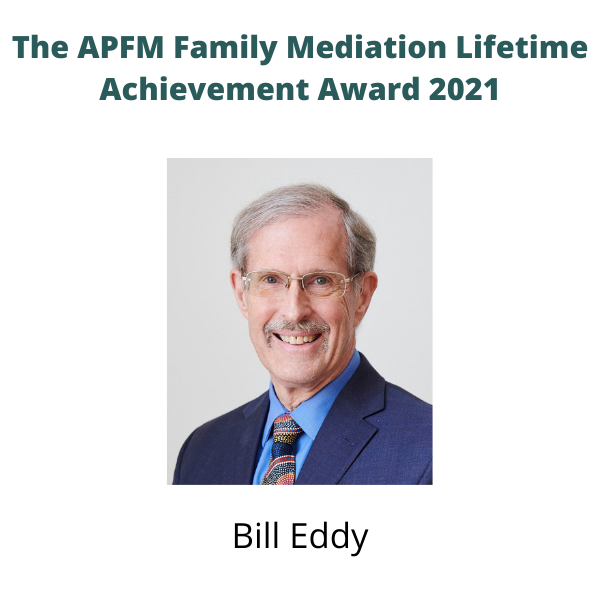 Bill Eddy has been a family mediator for the past 40 years, including the past 15 years as the Senior Family Mediator at the National Conflict Resolution Center in San Diego, California. He is also a therapist, lawyer, and author. He is also the co-founder and Chief Innovation Officer of the High Conflict Institute, for which he has trained mediators and other professionals in over 35 states and ten countries. He is the developer of the New Ways for Families® skills-training method for parents of high conflict divorce and New Ways for Mediation® method for high conflict cases. He has written twenty books and manuals, including BIFF for CoParent Communication and Mediating High Conflict Disputes.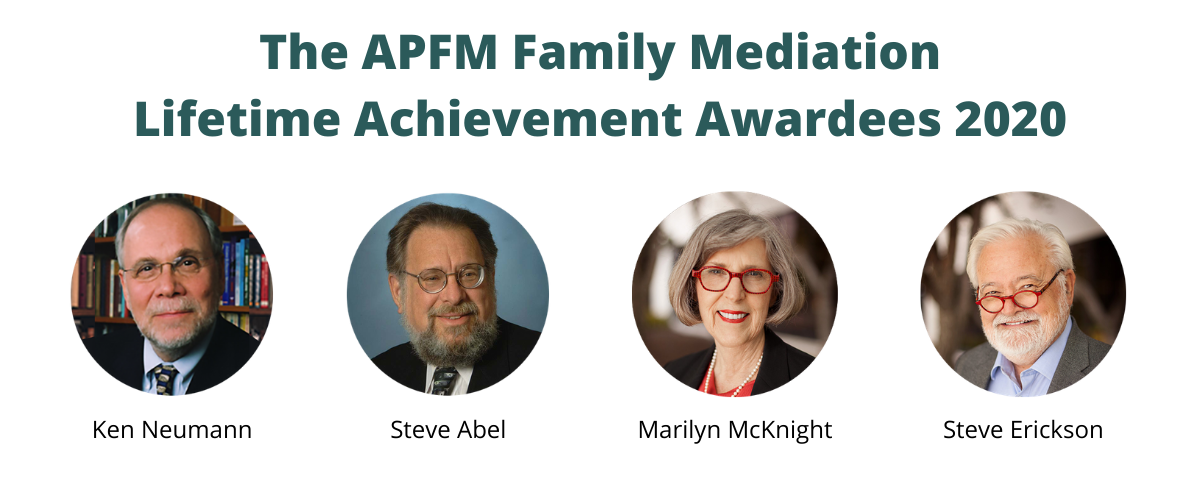 Ken Neumann, has been a leading family mediation practitioner and trainer since 1983. He is a Founding Member of APFM and was an Advanced Practitioner Member for the Family Section of the Association for Conflict Resolution. He is a Founding Board Member and Past President of the New York State Council on Divorce Mediation, and the Family & Divorce Mediation Council of Greater New York. He has received training as both a family therapist and as a Clinical School Psychologist. Ken and Steve Abel lead The Center for Mediation Training in NYC, which has trained thousands of mediators over the course of four decades.
Steve Abel is a past President of the Academy of Professional Family Mediators. He is also a past President of the New York State Council on Divorce Mediation and the New York State Chapter of AFCC. The New York State Council has honored Steve by naming its annual award for service the "Abel Award." He has served as an active member of the Board of Directors for the Center for Safety and Change (formerly the Rockland Family Shelter). Steve and Ken Neumann lead The Center for Mediation Training in NYC.
Marilyn McKnight is a former President of both the Academy of Family Mediators (AFM 1988), and the Association for Conflict Resolution (ACR 2008), and Founding Board Member of the Academy of Professional Family Mediators (APFM). She is presently the Chair of the Professional Mediation Board of Standards (PMBS) developing competency based credentialing of professional family mediators. In 1977, she Co-Founded the Erickson Mediation Institute with her partner, Stephen Erickson. She was awarded the Bush Leadership Fellowship in 1987 to achieve her MA in Human Development with emphasis on Psychology and Mediation. In 1996, Marilyn and Steve were awarded AFM's Distinguished Mediator Award. She coined the concept of "client-centered mediation" as described in the 2003 book co-authored with Stephen K. Erickson, The Practitioner's Guide to Mediation: A Client Centered Approach. Together they have authored 5 books on mediation and co-authored with Don Saposnek the latest book, The Child Support Solution: Unhooking Custody from Support, 2020.
Steve Erickson was one of the founders of the Academy of Family Mediators in 1981 and in 1985 served as its second president. He and his partner, Marilyn McKnight, co-founded the Erickson Mediation Institute in 1977. Along with Jim Coogler, he conducted the first 40 hour Family Mediation Training Program that occurred in 1980 and he has trained mediators nationally and internationally. He and Marilyn have also co-authored five successful books on mediation: Family Mediation Casebook (1988), The Children's Book (1992), Mediating Divorce: A Client's Workbook (1998), Mediating Divorce: A Trainer's Manual (1998), and The Practitioner's Guide to Mediation (2003). He is currently chair of the Standards and Practice Committee of the Academy of Professional Family Mediators and was one APFM's incorporators in 2012. He teaches in the Master of Arts in Leadership Program at Augsburg University and his most recent book is co-authored with Don Saposnek and Marilyn McKnight titled the Child Support Solution. He is currently working on projects to introduce the use of the child support account to tribal courts and low income communities.
Watch the videos of Ken and Steve and Marilyn and Steve receiving the award.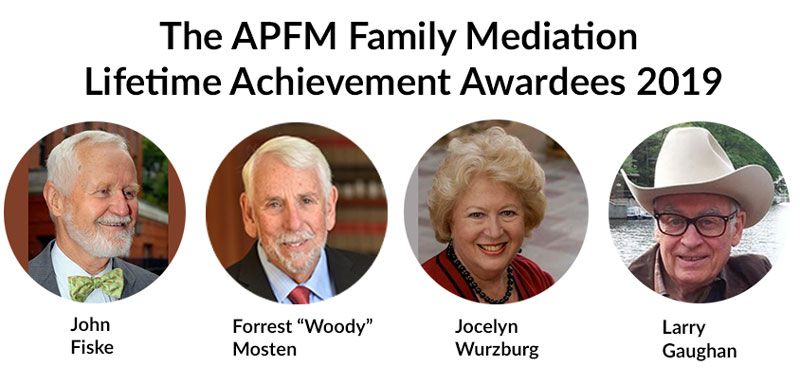 John Fiske is a Founding Member of APFM and has been mediating divorces since 1979, the year he joined the firm, Healy, Lund & Fiske in Cambridge, MA (now Healy, Fiske, Richmond & Matthew). He still has on his wall a picture from a 1999 Money Magazine article entitled "Post-nups are his business," which inspired one troubled couple to mediate their marriage, which is still intact, as far as he knows. Since 2005, he has trained about 50 other family mediators how to help couples stay married.
Forrest S. "Woody" Mosten has a mediation and collaborative law practice in Beverly Hills and La Jolla, California, and is the author of Building a Successful Collaborative Practice (with Adam Cordover, ABA, 2018), The Complete Guide to Mediation, 2nd Edition (with Elizabeth Potter Scully, ABA, 2015); Collaborative Law Handbook (Wiley, 2009); Unbundled Legal Services (with Elizabeth Potter Scully, ABA, 2017), and Mediation Career Guide (Wiley 2001), as well as numerous articles. He specializes in high-conflict mediations involving divorcing families, partnerships, employment disputes, probate, real estate, commercial disputes and other complex civil lawsuits.
Jocelyn Wurzburg introduced mediation to Tennessee as a viable alternative to litigation, particularly in divorce cases. She founded the Memphis chapter of the Panel of American Women in 1968, on the heels of the assassination of Martin Luther King Jr. In 1972, Jocelyn authored Tennessee's first law on anti-discrimination in employment and public accommodations, and served as the first national chair of the Women and Minorities Task Force of the Commission on Social Action of Reform Judaism. She also received the Women of Achievement award for her courage, chaired the Martin Luther King Memorial, and founded the Jazz Society of Memphis.
Larry Gaughan (awarded posthumously) was one of the most experienced divorce mediators in America. He founded Family Mediation of Greater Washington in August 1980. During the previous academic year, he was Scholar-in-Residence at the Georgetown Family Center, which, at the time, was in the Department of Psychiatry at Georgetown University Medical School. The field of divorce mediation has undergone many changes since 1980, and Larry often had been in the forefront of many of these changes. He was a Founding Member of the Academy of Professional Family Mediators and his articles frequently appeared in APFM's quarterly publication, The Professional Family Mediator. Larry's work has been featured in The Wall Street Journal, The Washington Post, USA Today and Virginia Lawyers Weekly. He has been highly respected and is sorely missed by his colleagues.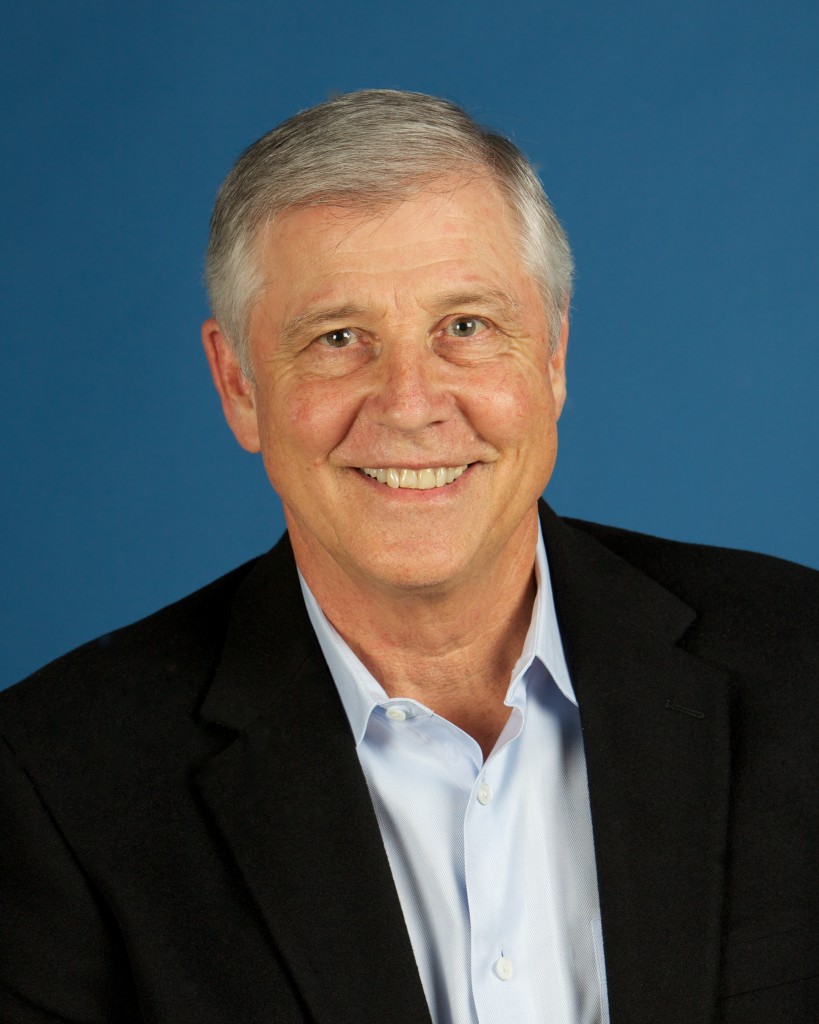 2018 (Inaugural) Recipient: Chip Rose
Chip Rose was the inaugural recipient of The APFM Family Mediation Lifetime Achievement Award and accepted the award at the 2018 APFM Conference in San Diego.
As founder of The Mediation Center of Santa Cruz, Chip has dedicated his career to the work of family mediation for nearly 40 years.