Town Hall Series 2021: Mediator's Search For Meaning 2.0 — The Family Mediator's Mind, Heart, And Soul
Experienced professional family mediation trainers worldwide unite for this enlightening three-part APFM Town Hall exploration of the family mediator's inner self, our beliefs about foundational mediation issues, and the principles that inspire our work in a post-pandemic world. We will explore:
Our Collective Mission
Our Thought Process
Our Guiding Values And Goals
Our Roles And Responsibilities
How Mind, Heart, And Soul May Or May Not Align With  Our Models, Techniques, And Strategies
A FREE, INTERACTIVE TOWN HALL SERIES

Each Town Hall is 90 minutes long.
Part I
THE MIND OF THE MEDIATOR
How we think and act as mediators
June 17, 2021
Recording below
___
Part II
THE HEART OF THE MEDIATOR
Who we are and how we feel as mediators
July 15, 2021
Recording below
___
Part III
THE SOUL OF THE MEDIATOR
What we believe and why we choose to mediate
August 19, 2021
Recording below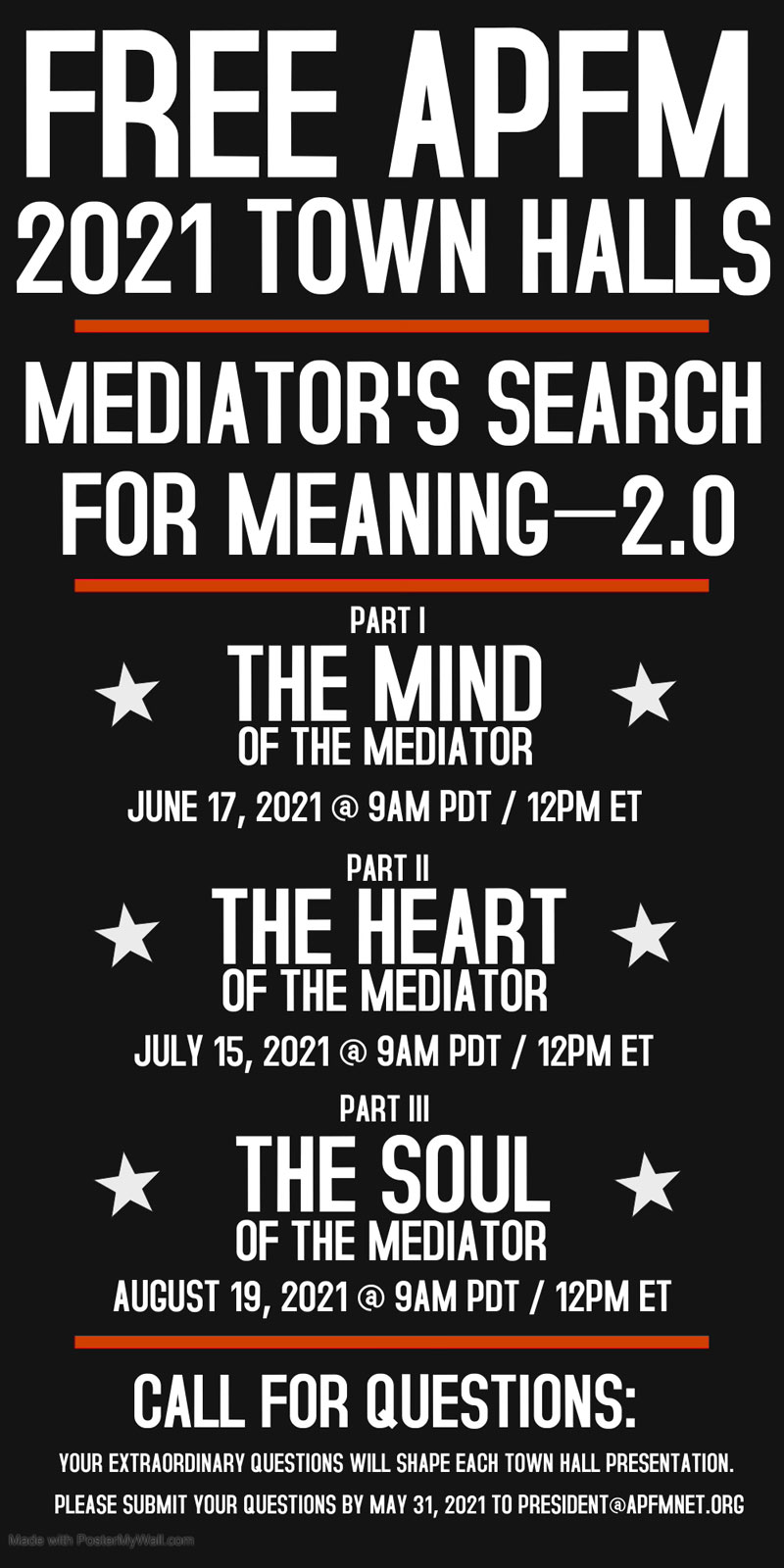 Florida Chapter of the Association of Family and Conciliation Courts
Indiana Association of Mediators
The Maricopa County Association of Family Mediators
Massachusetts Council on Family Mediation
The Mediation Center of the Pacific, Inc.
North Carolina Association of Professional Family Mediators
Pennsylvania Council of Mediators
Southern California Mediation Association
Add these Events to your Calendar
Participation is Free; Registration is Required
To register for one or more of these 90-minute online Town Halls, simply complete and submit the registration form below.
You will receive information on how to attend and the Zoom link the week of the Town Hall.
Please select a valid form
Recordings
Each Town Hall will be recorded and available within approximately one week of the live event.
Call for Questions
Your extraordinary questions will shape each Town Hall presentation.
Please submit your questions to [email protected] no later than May 31, 2021.
Looking for the 2020 Town Halls? Visit the 2020 Town Hall page where you can also find the link to obtain an attendance certificate after viewing any of 2020 Town Halls.
Part 1: The Mind of the Mediator
How we think and act as mediators
Recorded June 17, 2021
If the video does not display below, you can also view it here: https://vimeo.com/565868706
Host: Michael Aurit
Michael Aurit is President of The Academy of Professional Family Mediators, Co-Founder of The Aurit Center for Divorce Mediation in Scottsdale, Arizona, and an Adjunct Professor at Arizona State University Sandra Day O'Connor School of Law. He is a licensed attorney in Arizona and California. *Biography provided for purposes of verifying Continuing Education credits in your state, if necessary.
Panel:
Nina Meierding
Deborah Sword
Susan Guthrie
Larry Fong
Don Saposnek
Alex Glassmann
Part 2: The Heart of the Mediator
Who we are and how we feel as mediators
Recorded July 15, 2021
If the video does not display below, you can also view it here: https://vimeo.com/578208647
Host: Michael Aurit
Panel:
David Hoffman
Michael Lang
Jocelyn Wurzburg
Leyla Balakhane
Crystal Thorpe
Max Markin
Part 3: The Soul of the Mediator
What we believe and why we choose to mediate
Recorded August 19, 2021
If the video does not display below, you can also view it here: https://vimeo.com/591836061
Host: Michael Aurit
Panel:
Susan Bulfinch
Dana Curtis
Steve Erickson
Jim Melamed
Chip Rose
Amanada Singer