Tracey-Leigh Wessels – an interview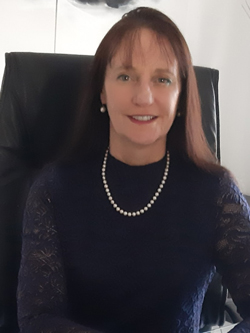 Who are you? Where do you come from? What is your background?
I am a Mediator and Attorney from Durban, South Africa. Durban is situated along the east coast of South Africa and is a coastal city of lush, green sub-tropical vegetation with a warm, temperate climate. As a child, I wanted to be a ballet dancer and so, from the tender age of ten, my world became one of grueling ballet class six days a week for hours on end. When, at the age of eighteen, it suddenly became clear to me that my childhood dream of dancing on an international stage was not going to become my reality, I entered university, and the rest is history. I studied Law at the University of Kwazulu-Natal. After graduating, I stayed on at the Law School as a Graduate Assistant while I did my Master's degree, focusing on legal issues pertaining to children. This was followed a few years later by a further Master's degree, but this time in the multi-disciplinary field of Law and Social Work. I was admitted as an Attorney in 1997. Just prior to this, during my period of clerkship, I had been given the chance opportunity by my Principal to attend a Mediation Course run under the auspices of the South African Association of Mediators – it was life changing. I opened my own Law Practice in 1999, and from this date until 2009, I used every opportunity at my disposal to convert any matter that came my way into an opportunity to mediate the matter and expose clients to the potential World of Resolution outside of the litigation arena. In 2010, I made the decision to convert the Family Law arm of my Legal Practice into a Mediations-only practice. I have not looked back; I am living and working in my area of passion.
What do your current professional practice and activities look like?
Family Mediation takes up about 80% of my working life, the other 20% is my work as a Reproductive Law (Surrogacy) Attorney.
Currently, the main focus areas of my Mediation Practice are: Divorce Mediation, Blended Family Mediation Matters, and Mediation to Remain Married.
If I am not mediating, I am reading up on mediation & conflict resolution and on what is happening in this area in the rest of the World. I am so grateful for the opportunity that the internet has given us to have immediate access to online articles, and to courses run by international experts in the field. In this regard, I am specifically grateful for the work done by APFM and Mediate.Com in making mediation materials accessible, at the push of a button, and thereby allowing me to learn and grow professionally, through the writings and courses of other mediators.
How did you first learn about mediation?
I first learnt about Mediation in 1996. I was not sure what it was all about but decided to do the course, as, just a few weeks prior, I had attended a High Court Divorce trial with my Principal, where the Judge in Chambers "highly recommended" to the Legal Representatives that they "try" to settle the matter out of Court. He had indicated that, if the Legal Representatives could not help their clients settle, he would start the trial later that morning. Lo and behold, all the professionals involved took the Judge's recommendation quite seriously, and major negotiation between formerly warring parties and their legal representatives suddenly started taking place in the corridors of the Courthouse. What intrigued me at the time was that half-way through the lawyer-led negotiations, the couple took over, began to talk to one another, and the matter ended with both Parties settling their divorce on terms with which they were both happy, and with the ice seemingly having been broken between them, and weapons of warfare having been laid down.
The impact of the above was that I realized that litigation was a stressful and costly exercise, and that there was a better way for lawyer-led settlement negotiation, namely, Party-Led Negotiation. It was with this mindset that I attended my first mediation course, and I am so grateful that I did.
What do you hope to accomplish as a Board Member of APFM?
Being a Mediator is a privilege and honor that I do not take lightly. In the same vein, having been invited to sit on the APFM Board is a privilege and honor beyond my wildest imaginings. I hope to be able to promote APFM and the work of APFM as widely as possible.
In a nutshell, APFM has changed the way I mediate, its openness to the sharing and dissemination of mediation-related information has directly impacted my work for the better. As a result of being an APFM member, I joined a Reflective Practice Group, under the wise leadership of Michael Lang (our Group of eight mediators have been together for the past three years). It is this that I would like to share with my colleagues: We can be mediocre, or we can be excellent – APFM offers to Mediators everything they need to master their profession.
Where do you see the field of Family Mediation going?
I would love to see Family Mediation becoming the first port of call when conflict hits a family. I would love to see young adults taking the lead in changing how families react to conflict and programs being offered in schools where children can learn the fine art of mediating playground and classroom conflict.
What do you like to do when you are not mediating?
Relaxation for me is spending time in the company of my beloved husband and my three young-adult children. My other passion, which I have been doing since 2008, is running both girls and young-women mentorship programs which cut across social, cultural and geographic barriers and bring girls and young-women together under a united banner of celebrating womanhood.