Joanna Roth – an interview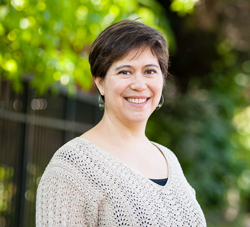 1) Who are you? Where do you come from? What is your background?
I spent my younger years in suburban Connecticut, the child of a Hawaiian-Tahitian mother and a midwestern German father. I was always too late or too early. We moved to urban Seattle before my 8th grade year, and I went from preppy town to being surrounded by Cyndi Lauper look-alikes. Or so it seemed. Growing up betwixt and between has been excellent preparation for mediating divorce.
2) What do your current professional practice and activities look like?
Ninety-five percent of my practice is family law mediation. I still take the occasional collaborative law case. I am continually involved in committee work, I host a local collaborative law pod, and I am active in a Balint-format consultation group. I also just attended my first group-relations conference, which was eye-opening.
3) How did you first learn about mediation?
I was in a divorce mediation of my own, about the time I was licensed as an attorney. It didn't go well, and that launched an interest in divorce mediation. A year later, I had my first mediation case as a divorce attorney. That also didn't go well. I've been striving to do better since.
4) What do you hope to accomplish as a Board Member of APFM?
I've been very impressed with the work of APFM and would like to participate in the continued, national conversation about our work as mediators, what we can improve, and how we can be more visible and accessible.
5) Where do you see the field of Family Mediation going?
Mediation has become much more common, in the time that I have been practicing. I see greater demand, both from the client side and the professional side. I expect that trend to continue, because mediation is gentler on parties, less expensive, and more efficient than litigation.
Engaging in the work of racial equity and in supporting diversity will lead us to new places, although I don't pretend to know what they are right now. There are so many undefined assumptions that we make as mediators. Identifying those hidden assumptions and examining how they play into the substance of mediation is important. I'd like to see mediators form a broader and more diverse community, and provide services to an already diverse broader community. Frankly, that broadening is necessary in my geographic region, because most of the local mediators will be retired within the next ten years.
I am training as a leader of a Balint group, and have been in a Balint group for collaborative professionals, for the past four years. The Balint method is a reflective practice style of consultation group which I am interested in bringing to mediators. (see: https://balint.co.uk/about/the-balint-method/. I am also curious to look at mediation, especially inter-disciplinary mediation, through a group relations lens. We know that divorce professionals have deep connections and long histories and that their clients are located within a network of family and friends who can have significant impact on the divorce process. I am continually in teams where our ability to notice what is happening among ourselves is limited, and the group relations lens would give us a framework to be more deliberate in how we coordinate our efforts.
6) What do you like to do when you are not mediating?
This list grew significantly during the pandemic. Mostly dancing. I am studying hula and dancehall, and just added Afro-Cuban dance. I also teach a dance fitness class twice a week, which is available on-line! Ask me for the link! If I didn't dance, I would be at significant risk of developing bad habits. I play slack key guitar, and have found a fellow Hawaiian in Seattle to study with. I am a lifelong knitter, weaver, dyer, spinner, and now, garment sewer. My curated collection of fabric and yarn expanded during the lockdown, and now threatens to take over my house. I love learning other languages. I speak fluent French, and not fluent Spanish. I dream of living abroad, working remotely, and speaking more languages that are not English. I spend a lot of time cooking for my husband and daughters, and my daughters sometimes dance with me.