Jen Hawthorne – an interview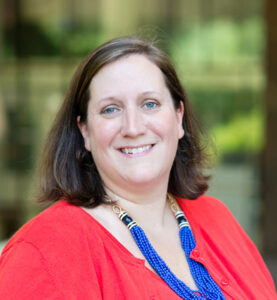 1) Who are you? Where do you come from? What is your background?
These days I feel like a wear a lot of hats (mom, partner, friend, daughter, sister, mediator, attorney), which leaves me not quite sure how to directly answer the question of who I am. I grew up in upstate New York in a town called Queensbury, between Lake George and Saratoga. My parents were both from Maine, so while I am not technically a native New Englander, given that I have lived more than half my life in and around Boston and that my family is from Maine, I think at this point I quite strongly identify as a New Englander.
My undergraduate degree is from Boston University, where I majored in Political Science and Economics, which led to a 7-year stint in financial services before attending law school at the Northeastern University School of Law. I intended my law career to have a focus on achieving greater racial and gender equality after law school, but between becoming a new mom and dealing with a terrible job market, I found my way to private family law where I quickly learned that mediation and collaborative law helped me to feel that I could make a positive change in the world, granted that it was on a smaller scale than I had once hoped.
Today I am happily working as a mediator and attorney at Skylark Law and Mediation in Southborough, MA, and co-parenting my three children.
2) What do your current professional practice and activities look like?
I call myself a mediator and attorney, for a reason. I think of myself as a mediator first, and an attorney second. I focus my practice on out-of-court conflict resolution. That most often means that I am mediating, but I also practice law by representing folks going through a mediation, through the Collaborative Process, and through direct lawyer-to-lawyer negotiations. I believe it is fundamental that folks remain in control of their family to the largest extent possible, and that becoming good co-parents means learning how to break the negative patterns of communication that can often exist at the end of a marriage. I focus my practice on helping my clients see the possibility of a very livable path for themselves and their children after divorce, and empower them to make decisions consistent with that path.
I am very involved in my local and state-wide conflict resolution organizations, The Massachusetts Council on Family Mediation (MCFM), and the Massachusetts Collaborative Law Council (MCLC). I am a Board member of both. At MCFM, I am the co-chair of the Diversity, Equity and Inclusion Committee, and the Publishing Committee. At MCLC, I am the co-chair of the Continuing Education Committee. The goals of these committees collectively is to spread the word about mediation and collaborative law so that both our membership and our clientele are increasingly growing, and to ensure that the professionals who are practicing stay up-to-date in terms of education, knowledge, and practice skills.
3) How did you first learn about mediation?
I first learned about mediation from a fellow mediator, Marcia Tannenbaum. I was at a networking event early on, after deciding to focus on family law. We were discussing Collaborative Law, and she urged me to look into mediation training. I took the first available family law mediation training in my area and I was hooked.
4) What do you hope to accomplish as a Board Member of APFM?
As an APFM Board Member, I hope to continue the work I am already doing through MCFM and MCLC as the Membership Committee co-chair, to continue growing our community of family mediators. I am sure that my goals will expand, over time on the Board.
5) Where do you see the field of Family Mediation going?
I would like to see family mediation become the first stop for all family conflict. To get there, I think we need to continue to grow our local and national organizations. I think it's important to continue spreading the word about the transformative power of mediation for all family disputes, regardless of how contentious they appear at first glance. I think it is also important to start providing a roadmap for young folks to see how they can successfully make mediation a full-time career.
It's also really important to identify appropriate trainings for folks, so that, as professionals, we are initially trained well, and we continue to expand our skills through professional development and continuing education.
I think APFM is moving mediation forward in these ways and I am excited to have a larger role in the organization to help continue to move these goals forward.
6) What do you like to do when you are not mediating?
When I am not mediating, you can most often find me spending time with my children, family, and friends, or binge-watching some captivating show so I can let my mind and body rest. Mediating is wonderful, and constantly wading through conflict requires one to rest and recover, every so often!