Brian B. Egan – an interview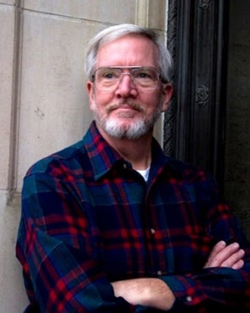 1) Who are you? Where do you come from? What is your background?
I'm a recovering Fortune 100 engineering manager who, despite 26 years of business conflict, discovered mediation later in life. I've been mediating for 20 years, 17 of them as a profession. I'm also a seven-year veteran of the US Air Force (where I flew test equipment in a laboratory!).
I was born in New York, raised in Florida, and, in the USA, have lived in Colorado, California, and finally Oregon. I also lived in England for four years and in Germany for two, and those six years abroad have had a huge effect on who I would become as a person.
I have a BS in Computer Engineering and an MS in Organization Development from Pepperdine University, so, naturally, I gravitated to my true calling as a mediator!
2) What do your current professional practice and activities look like?
I'm a one-person practice in a small town in Oregon. Since COVID-19 started, I have conducted well over 100 mediations exclusively by videoconference, including two international cases. The majority of my cases are of divorces and parenting plans, but I also do business, non-profit, and interpersonal mediations. I'm a court-referred family mediator, and I'm doing cases for an agency of the US government. In addition to professional cases, I regularly volunteer-mediate small claims court cases, and community cases with a local non-profit. I am also a Certified Professional Facilitator, helping organizations to do futuring and strategic planning.
3) How did you first learn about mediation?
A local agency visited church and asked if anyone would like to become a volunteer mediator. I was intrigued, having thought mediators were either international diplomats or high-priced attorneys. 1400 cases or so later, here I am.
4) What do you hope to accomplish as a Board Member of APFM?
I hope to help this marvelous organization continue to grow and serve the global community of mediators. To me, APFM's international membership is the organization's most exciting quality. As individuals, we may not have much influence on world peace, but working together to resolve small conflicts could have a huge cumulative effect.
From a slightly less ambitious standpoint, I would love to see mediation become the primary medium of family dispute resolution, and hope to help raise the proportion of highly skilled non-attorneys in the field. I am a believer in competency-based certification, and also hope that APFM can lead mediation's evolution into that next level of professionalism.
5) Where do you see the field of Family Mediation going?
While it seems to have been primarily a tool of the legal system, as more people learn about the benefits of mediation it might easily become the de facto approach for resolving all manners of family conflicts. Building close connections between the legal, counseling/therapy, and ADR communities, could result in incredible synergy.
6) What do you like to do when you are not mediating?
Limited space precludes including the entire list, but I love international travel and motorcycle trips with my wife, being a grandfather and father, playing rock and classical bass, bungling home improvement projects, teaching writing at community college, creating watercolor paintings and stained glass, making appalling and rather obscure puns, attempting to learn other languages, and reading. And, of course, serving on the Boards of extraordinary organizations.