Alex S. Glassmann – an interview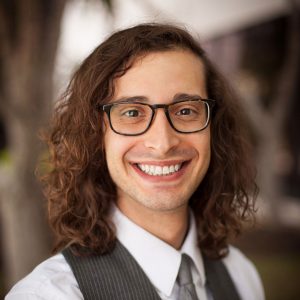 1) Who are you? Where do you come from? What is your background?
I grew up in Cincinnati, OH, as a theater kid. In my high school, we theater kids alternated between doing plays and competing in Mock Trial. Through theater, I began to hone the art of communication and improvisation. Through Mock Trial, I learned how applying these skills in a courtroom could profoundly affect people's lives: Entertaining an audience was one thing, but through the "theater" of trial, justice itself hinged on the advocates' performance.
I went on to obtain my B.A. in Theater from Pomona College, and after my undergrad years (and short stints in Hollywood, CA, and Boulder, CO), my wife and I moved to Minneapolis, MN, so I could attend the University of Minnesota Law School. However, as I cut my teeth in the real, non-mock courtroom, I found that winning in an adversarial process actually did not feel so good. In contrast to Mock Trial, where the "losers" were just student competitors, my real-life court victories came with the real consequences for people in their adult lives – and I found that hard to bear.
Then, I discovered mediation. Everything clicked. Mediation dovetailed with my theater training, through the arts of inter-personal communication and active listening. Moreover, the "performance" of a mediator at work really mattered, with the power to profoundly affect the parties' lives.
In short, rather than helping just one person win at the expense of another, mediation is more fulfilling, since it supports both sides of a dispute.
2) What do your current professional practice and activities look like?
I am a licensed attorney, and I devote 100% of my practice to family and divorce mediation. I'm privileged to work at one of the oldest and most well-respected family and divorce mediation firms in the country—the Erickson Mediation Institute (EMI)— distinguished as the third mediation firm founded in the U.S., and the very first in the Midwest. Since joining EMI as a professional family mediator in the summer of 2017, I've taken on the bulk of the firm's cases.
On average, I mediate six days a week, helping couples build parenting plans, budgets, and any other agreements needed to shore up the terms of a pending divorce or post-divorce situation. Most of our clients mediate without attorneys, but the process works just as well with lawyers involved. And, we're a "one-stop shop," which means we handle clients' court documents in the same neutral, impartial way that we helped them mediate in the first place.
I am also serving in my second year on the Council of the Minnesota State Bar Association's ADR Section, and I have served for several years as Secretary on the Board of Directors of the Conflict Resolution Center (CRC), a local community mediation organization.
3) How did you first learn about mediation?
My father, also, is an attorney and is a practitioner of evaluative mediation, so I grew up familiar with that style of practice. It wasn't until law school that I discovered my current, very different approach to mediation, called the facilitative, or client-centered model. Client-centered mediation focuses on the parties' subjective standard of fairness, rather than on prescribing one-size-fits-all rules. Research shows that client-centered mediation produces agreements that last longer than any other process. The proven effectiveness of client-centered mediation, along with the fact that it's fun, hooked me from the start.
As a law student suddenly sold on client-centered mediation, I garnered early experience as a volunteer mediator at the CRC (the same organization in which I now serve on the Board). Through the CRC, I cut my teeth mediating community and harassment court cases— that's when I realized that I might be good enough at this to earn a living.
After graduating law school, I sought out the advice of one of the original "founding fathers" of mediation, Steve Erickson. Steve took me under his wing and soon introduced me to his wife, Marilyn McKnight, one of the "founding mothers" of mediation, in her own right. Steve and Marilyn co-founded EMI in 1977, and that means, between the two of them, I've inherited wisdom from a combined 80+ years' experience.
4) What do you hope to accomplish as a Board Member of APFM?
Whereas, with most new acquaintances, I have to start by explaining what "mediation" is, and it can be hard to meaningfully go deep into anything of real interest or substance. But, in my first experience with APFM at the 2017 Conference in Memphis, TN, I discovered that I could start a conversation with someone I'd never met before, and, in seconds, we were talking shop. Through APFM, I've connected with more professional family mediators than I previously ever knew existed. It is much more than a professional network; APFM feels like a national-scale cohort, or an extremely large professional family.
My hope is that by serving on APFM's Board and Membership Committee, I'll be able to expand the visibility of the organization to fellow mediators who aren't yet aware of this national interconnection of professional comrades. APFM is a "home away from home" that many mediators don't yet know of, and my goal is to find those folks and get the word out.
5) Where do you see the field of Family Mediation going?
The field of Family Mediation appears to be becoming more mainstream each day. In the old days, it was more common for divorcing couples to lawyer up and become adversarial right
away. It often was not until people were well into that process that they realized how untenably expensive and toxic it was. Only then, after tens of thousands of dollars and months of wasted time, would many couples belatedly find out about mediation as a more affordable and civil option. But today, more and more divorcing couples decide to simply skip attorneys and go directly to mediation, where the process puts the parties, rather than their advocates, in the driver's seat.
As Family Mediation gains ground over old-school adversarial divorce, the number of mediation clients will continue to increase, as will the clients' level of savvy and discernment when choosing a professional family mediator. It will become more important than ever for professionals to connect through organizations like APFM, in order to keep up-to-date on best practices and developments in the field. I would not be surprised if, over time, this results in more sub-specialties for family mediators, who, in the midst of higher demand, will find success in tailoring to more sophisticated, specific niches. In short, we will likely see dual developments: As a profession, a push towards standardizing best practices; and, on the individual practitioner level, an opportunity to specialize, according to talent, acumen, and preference.
6) What do you like to do when you are not mediating?
While I am not particularly talented in music and don't know many songs, I do enjoy playing acoustic guitar from time to time. After a hard mediation, there's nothing quite like music as a means to shake off the stress and make some literal harmony (at least I try to sing in tune). And, my wife, God bless her, gracefully tolerates my limited repertoire.
When I'm not making noise on my guitar, there is a good chance you'll find me playing video games, hiking around one of our many beautiful lakes in Minnesota, or helping my wife take care of our outrageously cute sugar gliders. (Sugar gliders, if you've never heard of them, are pouch-bearing mammals, i.e., marsupials, who look a lot like flying squirrels. Stop what you're doing and Google them now. You'll never go back to boring old cat pictures, ever again.)