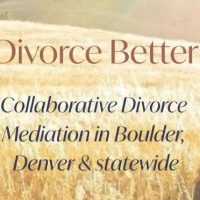 Long Business Description
We know divorce tests you.
Whether you're mostly cooperating or are in conflict, the legal details and paperwork of divorce can feel nightmarish. Rifts deepen, money evaporates, and children suffer.
The legal system wasn't designed to help divorced families stay functional.
The legal system remedies formal disputes, that's all. You have to take actions to maintain the well-being of your family members during this transition. Too often, the usual legal path is complex, burdensome, and harmful to family relationships. You want a smooth, easy, inexpensive process that doesn't cause unnecessary damage.
Conscious Family™ takes care of people.
When lawyers John and Peter met, we had each become disillusioned by damage caused during traditional divorce cases. In 2014, we created something we simply couldn't find in the divorce world: An efficient, affordable process that upholds and respects your highest values, and encourages each spouse to act from a better place, even when that seems impossible.
We wrote a new playbook for divorce.
Yes, we offer legal counsel, but most often we recommend our new paradigm model of mediation, even in cases where it might seem tough to work together.
If you can mediate, each party will be supported to express and achieve their interests, while gaining all necessary information to submit a legal settlement for court approval.
When you need a master negotiator on your side, we provide collaborative or strategic representation to secure an optimal out-of-court resolution.
Getting what you want doesn't require an adversarial mindset.
Divorce changes your life, but it doesn't have to destroy it. Yes, divorce can be a gut-wrenching, emotionally driven, financially onerous event, but you can protect the hearts and minds of those you love—your family, your children, and yourself.
When you look back on your divorce years from now, you'll want to know you did it right. It's not easy. We can help.