2023 Conference & Pre-Conference Registration
APFM members and non-members alike can register for the Annual Conference on this page.
Members need to be logged into the site to access member registration.
Registrants of our Pre-Conference Institute need register for only one Institute — the one you wish to attend live. Each registrant will have access, however, to all three Institutes! If registration is full for your first-choice Institute, you may nevertheless wish to register for another to gain access to the recording of your first choice.
Pre-Conference Schedule
Wednesday, October 25, 10:00 AM-1:00 PM Eastern
Conference Schedule
Wednesday, October 25, 2:00 PM-7:15PM Eastern
Thursday, October 26, 9:40 AM-4:15 PM Eastern
Friday, October 27, 9:40 AM-4:00 PM Eastern
To register as an APFM member, you must be logged into the site as an active member. Click here to login and then return to and refresh this page.
2023 Non-Member Registration
Choose below the conference registration that's right for you!
Non-Member Conference Registration
Non-Member Pre-Conference Registration
Information for All Registrants
Students and Military
Student registration is only for full time students enrolled in an accredited college or university.
Active military registration is only for active members of the military.
Cancellation Policy
Transfer of registration to another person may be done once, at any time without a fee. All requests for refunds must be made in writing. Written notice of cancellation received by email by October 11, 2023, will be issued a full refund minus a $20 service fee. No refunds will be issued for cancellations received after October 11, 2023.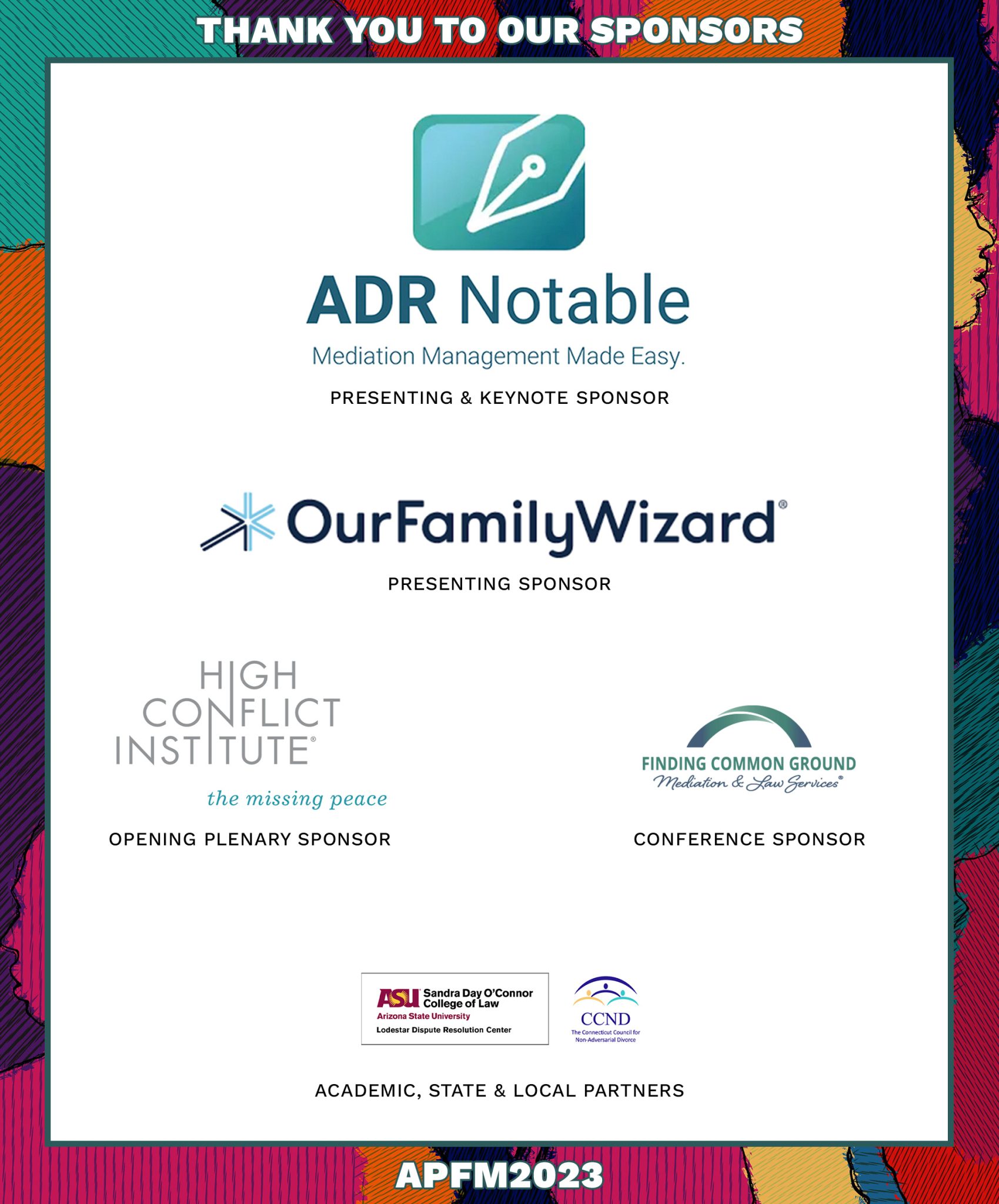 Presenting & Keynote Sponsor
Academic, State & Local Partners
ASU Lodestar Dispute Resolution Center
The Connectict Council for Non-Adversarial Divorce