Quick Conference Navigation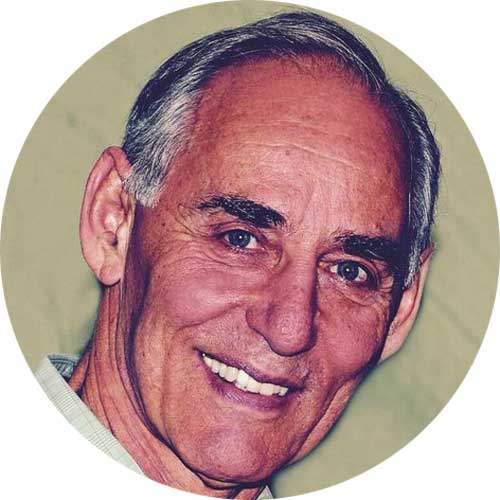 Kenneth Cloke
Thursday Morning Keynote: "Mediating Dangerously: The Frontiers of Family Conflict Resolution"
Kenneth Cloke is Director of the Center for Dispute Resolution and a mediator, arbitrator, facilitator, coach, consultant and trainer, specializing in communication, negotiation, and resolving complex multi-party disputes, including marital, divorce, family, community, grievance and workplace disputes, collective bargaining negotiations, organizational and school conflicts, sexual harassment, discrimination, and public policy disputes; and designing preventative conflict resolution systems.
His facilitation, coaching, consulting, and training practice includes work with leaders of public, private and non-profit organizations on effective communications, dialogue, collaborative negotiation, relationship and team building, conflict resolution, leadership development, strategic planning, designing systems, and organizational change.
He is an internationally recognized speaker and author of Mediation:  Revenge and the Magic of Forgiveness; Mediating Dangerously: The Frontiers of Conflict Resolution; The Crossroads of Conflict: A Journey into the Heart of Dispute Resolution; Conflict Revolution (1s and-2nd Editions); and The Dance of Opposites: Explorations in Mediation, Dialogue and Conflict Resolution Systems Design; Politics, Dialogue and the Evolution of Democracy; Words of Wisdom; and co-author with Joan Goldsmith of Thank God It's Monday! 14 Values We Need to Humanize the Way We Work; Resolving Personal and Organizational Conflict; The End of Management and the Rise of Organizational Democracy; The Art of Waking People Up: Cultivating Awareness and Authenticity at Work; and Resolving Conflicts At Work: Ten Strategies For Everyone On The Job (1st-3rd Editions).
His university teaching includes mediation, law, history, political science, conflict studies, urban studies, and other topics at several colleges and universities.  He is or has recently been an Adjunct Professor at Pepperdine University School of Law; Southern Methodist University; USC, Global Negotiation Insight Institute at Harvard Law School and Omega Institute; Albert Einstein College of Medicine, Cape Cod Institute; University of Amsterdam ADR Institute; Saybrook University; Massey University (New Zealand).  He has done conflict resolution work in Armenia, Australia, Austria, Bahamas, Brazil, Canada, China, Cuba, Denmark, England, Georgia, Greece, India, Ireland, Japan, Mexico, Netherlands, New Zealand, Nicaragua, Pakistan, Puerto Rico, Scotland, Slovenia, Thailand, Turkey, Ukraine, USSR, and Zimbabwe.  He is founder and first President of Mediators Beyond Borders.
He served as an Administrative Law Judge for the California Agricultural Labor Relations Board and the Public Employment Relations Board, a Factfinder for the Public Employment Relations Board, and a Judge Pro Tem for the Superior Court of Los Angeles.  He has been an Arbitrator and Mediator for over forty years in labor management disputes, and is a member of a number of arbitration panels.
He received his B.A. from the University of California, Berkeley; J.D. from U.C. Berkeley's Boalt Law School; Ph.D. from U.C.L.A.; LLM from U.C.L.A. Law School; and did post-doctoral work at Yale University School of Law.  He is a graduate of the National Judicial College and has taken graduate level courses in a variety of subjects.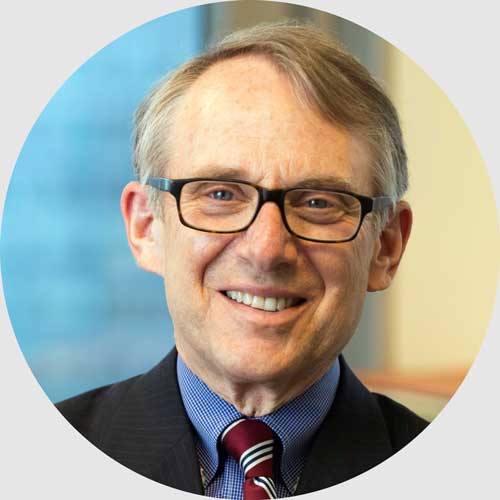 David A. Hoffman
Friday Morning Keynote: "What Makes People Tick: A Divorce Professional's Guide to Our Multiple Parts"
David A. Hoffman is a mediator, arbitrator, and Collaborative Law attorney at Boston Law Collaborative, LLC and also the John H. Watson, Jr. Lecturer on Law at Harvard Law School, where he teaches three courses: Mediation; Legal Profession: Collaborative Law; and Diversity and Dispute Resolution.
David's career has been a winding path. He spent much of college majoring in political protest and other non-academic pursuits. Then he got married and spent the remaining two years of college taking his studies more seriously, graduating summa from Princeton. He went to Cornell for a Ph.D. in American Studies, but again got sidetracked by political protest and living in a commune. He passed his doctoral exams but, when his fellowship ran out, started a woodworking business in Ithaca, NY, to make ends meet.
After seven years of woodworking, David concluded that his skills as a woodworker were only so-so, and he began looking for a career in which he could promote social change. He entered Harvard Law School at the age of 34 with a new marriage and two kids. He graduated magna in 1984, having served as an editor of the Harvard Law Review and an activist in the anti-apartheid movement at Harvard. He clerked for a year for then-Judge Stephen Breyer in the U.S. Court of Appeals.
With student loans to pay, David decided to work in a downtown Boston law firm (Hill & Barlow), where he mixed billable work, including a budding mediation and arbitration practice, with pro bono work (e.g., representing the ACLU and also a death row inmate in Louisiana). In 2000, he took a sabbatical from the firm to hike the Appalachian Trail from Maine to Georgia with his son Jacob (and with gracious support from his wife and daughter).
In 2002, David left Hill & Barlow to set up his own tiny firm, Boston Law Collaborative, LLC, which is devoted to dispute resolution.
Along the way, David has served as chair of the ABA Section of Dispute Resolution and published three books (including "Bringing Peace into the Room," with co-editor Daniel Bowling) and numerous articles on law and dispute resolution. He has won several awards for his dispute resolution work (see www.BLC.law). His TEDx talk about lawyers as peacemakers can be found here: tinyurl.com/Hoffman-TEDx.
In 2014, David lost his wife of 34 years, psychotherapist Beth Andrews, to lung cancer. As a cancer survivor himself, he has been raising money for Dana-Farber Cancer Institute, first as a (very slow) runner in the Boston Marathon and now in the Pan-Mass Challenge. In 2018 David remarried and lives in a cohousing community in Acton, Massachusetts with his wife Leslie Warner, who is a career coach. He has three adult children and an adolescent cat.
David has recently been providing trainings on using the Internal Family Systems model (which he learned about from Beth) in mediation, law practice, and other professional work, and this model will be the subject of his presentation.
Thank you Conference Partners!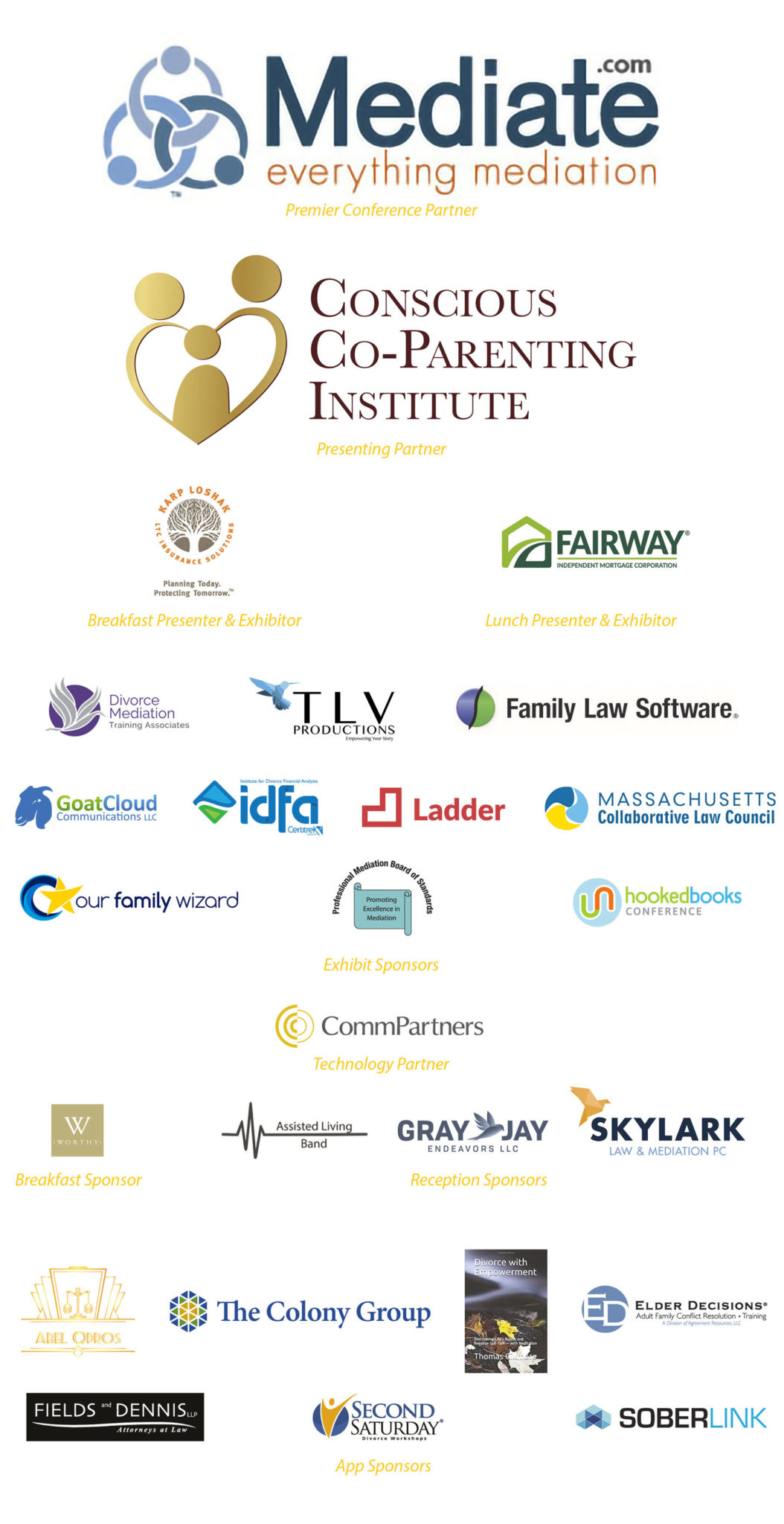 Learn more about our Conference Partners
Premier Conference Partner
Presenting Partner
Breakfast Presenter and Exhibitor
Lunch Presenter and Exhibitor
Exhibit Sponsors
Technology Partner
Breakfast Sponsor
Reception Sponsors
App Sponsors