Family Mediation Training Calendar
On this calendar APFM lists only training programs that are relevant for family mediators. We recommend taking a training program about mediation fundamentals and skills before attending a program focused on using mediation skills in work with families.
Listing a program on the calendar does not imply that APFM endorses the qualifications of the trainer or the quality of the training except where it is explicitly stated that APFM's Training Committee has approved the trainers and the program.
To request a listing on this calendar
Please send information to [email protected] in the following format:
ORGANIZATION PRESENTING THE PROGRAM 
BRIEF DESCRIPTION OF PROGRAM
PHONE NUMBER FOR INQUIRIES
WEBSITE THAT HAS MORE INFORMATION
APFM members may list their professional family mediation training programs at no charge.
For others, the cost is $39 per event listing.
Dealing with Gatekeeper Parents (1.5 hours)
Trainer: Donald T. Saposnek
This 1.5-hour course describes the current research on Gatekeeper parents, who present unique challenges to divorce professionals. Gatekeeping behaviors range on a continuum from facilitative gatekeeping (encouraging the other parent to spend time with their child) to restrictive gatekeeping (sabotaging and preventing the other parent from spending time with their child). The unique underlying intrapsychic, interpersonal, and larger systemic dynamics of Gatekeeping behaviors are elaborated and illustrated. Then, specific strategies for effectively managing Gatekeeper parents are discussed.
More information is 
here
.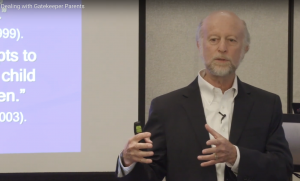 Creative Core Financial Solutions: Facilitating Client-Centered Success (3 hours)
Trainer: Chip Rose
This course presents a client-centered approach to considering the many financial issues of divorce.  The instructor takes on the predictable and challenging personas and issues that present themselves in divorce and offers practical, hard won suggestions for resolving the most common and most difficult issues of property division, child and spousal support, tax and other divorce financial issues.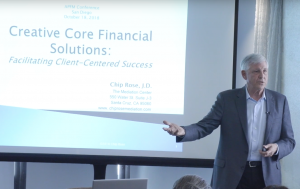 Maximizing Mediation: An Experienced Mediator's Favorite Techniques (1.5 hours)
Trainer: James C. Melamed
In this course, a highly experienced mediator shares his favorite techniques and strategies to help participants through the mediation process.  This includes presentation of concepts associated with "Maximizing Mediation," Framing, Question Forms, Rapport Development, Resource States, Strategic Approaches, De-positioning and Integrative Negotiation.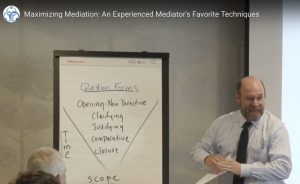 APFM Panel: Perspectives and Insights of Experienced Divorce Mediators
Featuring Donna Petrucelli, Jim Melamed, Chip Rose, Don Saposnek, Amanda Singer. Moderated by Michael Aurit.
This session features a panel of seasoned and engaging leading divorce mediators. Complete with audience Q&A, and moderated by Michael Aurit, the esteemed panel considers the many critical questions facing today's and tomorrow's divorce mediators.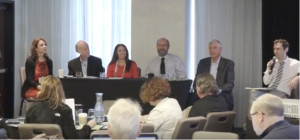 4 Game-Changing Tips To Build Your Divorce Mediation Practice (1.5 hours)
Trainer: Michael Aurit
Whether you are just opening the doors of your divorce mediation practice, or you have been a professional family mediator for many years, implementing these 4 Game-Changing Tips with potential clients can be game-changers for developing your more successful mediation practice. Partnering with Mediate.com, this program shares the details of The Aurit Center For Divorce Mediation's positive results from utilizing these modern approaches to practice building.  In addition to improving client retention, these approaches can work to maximize the success of substantive outcomes in mediation, as each "game-changer" is rooted in developing increased trust with potential clients. The course is divided into 4 sections: (1) Developing your brand is everything; (2) First impressions matter – i.e. make your office awesome; (3) Give a strategic, structured yet flexible initial consultation; (4) Make your Agreement To Mediate a Star!
More information is here.
Professional Certification in Trauma and Resilience: Level One (20 Hours)
Florida State University | Learning For Life
Florida State University has launched a new online curriculum for a Professional Certification in Trauma and Resilience: Level One. The curriculum was developed by the Clearinghouse on Trauma & Resilience within the Institute for Family Violence Studies in the College of Social Work. The curriculum enables professionals to develop the knowledge and skills they need to understand the impact of adult and child trauma, along with the keys to resilience. Participants will learn crucial information to improve service delivery to clients, students, human services recipients, patients, and other members of the public.
More information is here.