Kristyn Carmichael – an interview
1) Who are you? Where do you come from? What is your background?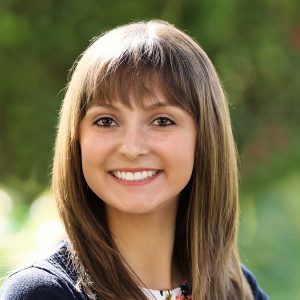 I was born and raised in Michigan, attending the University of Michigan (Go Blue!) for my undergraduate degree in English, and law school at Michigan State University College of Law.
My love for assisting others led me to law school, where I began my studies in mediation after struggling to truly find my place in the adversarial legal system. Thus, throughout law school, and to this day, I have never litigated. I strongly believe in assisting people through the mediation process.
Although I will always be a Wolverine football fan and appreciate Michigan for its beauty, I moved to Arizona in 2017 to be close to family, wonderful weather, and a more active lifestyle. My husband and I live in Scottsdale, Arizona, with our puppy, Dezzy.
2) What do your current professional practice and activities look like?
I exclusively practice divorce and parenting mediation at The Aurit Center for Divorce Mediation in Arizona. Our office focuses exclusively on divorce mediation, mainly with clients who are unrepresented by attorneys, and we also mediate post-divorce issues related to parenting plans. Our divorce mediation work takes spouses through the entire divorce process, from initial filings to mediation of agreements, and the drafting and filing of their final Decree with the court. Our clients never enter a courtroom. Although I am a licensed attorney, I do not represent individuals, or litigate any cases; instead, I focus my entire practice on helping people to have a healthier divorce option.
3) How did you first learn about mediation?
Unbeknownst to me, I officially began mediating in middle school. My title was "Peer Mediator," but I can say I did not truly understand the implications of my position, or how it would affect my professional path, moving forward.
My first understanding of mediation in a legal context was acquired much later, in law school. I was lucky enough to be a part of a select group of students involved in our law school's mediation program. It was there that I received my training in civil, domestic, and agricultural mediation, participated in the mediation and negotiation teams on an international level, and ultimately fell in love with mediating as a profession.
4) What do you hope to accomplish as a Board Member of APFM?
As a part of the mediation community in Michigan, I was blessed to be surrounded by mediators of different style, backgrounds, beliefs, and educations. They each brought something unique to their mediations and to their roles as my mentors. Although I feel very grateful and lucky to have had my many mentors, mediation is still a growing field, and many do not have the opportunities I did.
First and foremost, I want to provide a space where mediators can come together to learn from one another and help each other grow in our profession. This includes providing experiences for those who want to enter the mediation field for educational opportunities, to find mentors, or even just to find a place where they can feel as though their calling is recognized and appreciated.
Second, I want to be one of the people that helps this organization and the mediation field grow. There are many accomplished and inspirational mediators that have been on this Board before me, and still today. I hope to learn from their experience and, as one of the youngest members on the Board, also use my own insight to continue to assist the mediators in the future.
5) Where do you see the field of Family Mediation going?
First, I see the future as having more uniformity in the standards upon which the field of family mediation is based. While mediation is multi-disciplinary, we need certification that would provide uniformity in the education mediators receive, in order to grow our professionalism.
Second, I hope that the field grows to a point where someone seeking a new career can choose "family mediation," knowing they can have a career with meaning, while also being able to make a living at it. We have a good start, with mediation programs in university settings popping up across the country. I truly believe that
we can live in a world in which anyone can aspire to be a mediator, in addition to the more traditional choices of being a lawyer, doctor, therapist, scientist, astronaut, and others.
6) What do you like to do when you are not mediating?
I enjoy being active in my community and I participate on the planning community for Girls on the Run of Maricopa County, an organization which empowers, motivates, and encourages girls through the concepts of self-respect and a healthy lifestyle. I also train new volunteers at my local animal shelter, the Arizona Animal Welfare League, and I tutor students in a variety of subjects. I am also physically active and love hiking and running. I enjoy doing anything, from a quick run with friends on the weekend, to the occasional marathon. I also love adventure, from travelling the world with my husband, taking a cooking class, attending a weekend food festival, or just enjoying a good book.