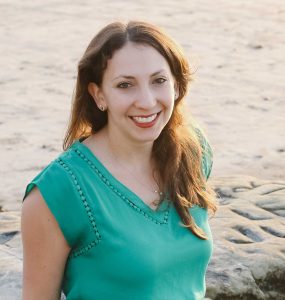 Amanda Singer – an interview
October 2016
1)  Who are you? Where do you come from? What is your background?
My mom was a therapist when I was growing up, and I saw firsthand how important people's emotions can be in so many situations and how, while therapy is a great start to help people understand their past and what has happened, there should also be a focus on developing skills in relationship disputes. I mainly grew up in Arizona, although I was born in New York. Once I graduated high school, I went to college at Brandeis University, outside of Boston. In college, I majored in sociology and, while I was pretty sure I wanted to go to law school, I wasn't ready to go right away.  I worked a few years in Boston, first, in religious education in a synagogue, and then doing marketing for a small bagel company. In applying to go back to school, I decided to come out to California to be closer to family still in Arizona. I've now lived almost half of my life on both coasts, and there are definitely parts of me that like each coast, but I don't have any plans to leave San Diego now.
When I was ready to go back to school, I knew that I wanted to do mediation and, while completing my J.D. at Chapman University School of Law, I also got my Master's degree in dispute resolution at the Straus Institute of Dispute Resolution at Pepperdine School of Law at the same time. Growing up, I did a lot of work with kids and families, which I continued during and after college, and even during law school. While at Chapman, I co-founded the Juvenile Mediation Clinic while working in the Riverside Juvenile Hall, mediating disputes among the inmates as well as teaching them peer mediation skills. I started mediating during law school, because I knew exactly what I wanted to do; I was able to graduate, pass the California Bar, and start working as a Family mediator. I also worked in the Family Court Facilitators' Office for a semester during law school.
2)  What do your current professional practice and activities look like?
I am currently the co-owner of San Diego Family Mediation Center and have been since March, 2015. We offer only mediation services both for divorce and other family law areas, offering such services as pre-marital mediation, prenuptial agreements, marital mediation and blended-family mediation.  My partner, Jennifer Segura, and I both only do mediation and, although I have my law license, I never go to court, and I only sometimes do any non-mediation legal work.  At SDFMC, we work with couples who want to stay out of court and help them maintain their relationships, especially when there are kids involved. Besides being on the board of APFM, I am also very involved with Lawyers Club of San Diego, coordinating networking events for them, and for Jewish Family Services Emerging Leaders Group, running a "giving circle". Additionally, I am involved in Provisors in San Diego, attending many networking meetings.
3)  How did you first learn about mediation?
I first learned about mediation when I was a senior in college and took a course on mediation, negotiation and conflict resolution. I was really intrigued by the ways that mediation and conflict resolution, in general, could be used in various legal disputes, and it motivated me to find out more about working in the mediation field. When I was ready to go back to school, I only applied to law schools that also had dispute resolution programs, specifically those with Master's degrees.
4)  What do you hope to accomplish as a Board Member of APFM?
I hope to be able to expand APFM's reach to include newer mediators who might not know about this great organization, and to educate professionals who might be interested in doing mediation and clients who need mediation. I think that APFM can really educate people as to the benefits of mediation, through our webinars, conferences and articles. As the Conference Committee Co-Chair for 2017, I'm looking forward to putting on a great conference that allows those in the family mediation field to come together, learn from each other, and network with those in the field.
5)  Where do you see the field of Family Mediation going?
I think that the field of Family Mediation is only going to grow in the coming years, because people are sick and tired of paying attorneys' high fees and coming out of their divorces feeling like no one won and hating their ex-spouses. Especially younger divorcing couples who do not have the financial ability to pay for attorneys, there is the desire to manage their own affairs. And, they, uniquely, are comfortable using technology to assist in self-managing their divorces. Additionally, with the courts being so backed up, I think that more people will turn to using a mediator to resolve their disputes, instead of taking a gamble with a judge. I also see people using family mediation for more than just divorce, and realize how many family disputes could be resolved by having a neutral third party to assist.
6)  What do you like to do when you are not mediating?
When I am not mediating, I spend time with my boyfriend and with other friends in San Diego. I currently live with my best friend of 21 years and her 2-year daughter, so I spend a lot of time playing, and reading books with her when I'm home. I'm also very physically active and like to do yoga, run, hike and bike. I've completed 5 marathons, 7 half-marathons and 2 triathlons. I'm already signed up for another half-marathon this winter, and another full marathon in the spring. I love taking advantage of living in sunny San Diego and being able to do things outside all year round. My boyfriend and I also enjoy cooking and often try to recreate dishes we've had out at restaurants.